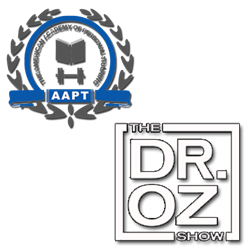 We are always so proud to see our graduates take their inspirational life experiences and put them to good use. - Harry Hanson, Owner & CEO of AAPT
New York, NY (PRWEB) October 23, 2013
The producers at The Dr. Oz Show selected four AAPT graduates to be considered among a very short list of other outside candidates. Those selected for consideration include Kathy O'Donnell, Roxanne Erekson, Trisha Gallen, and Deborah Japper.
Many AAPT graduates choose the path of personal training to motivate and help others achieve success similar to their own. "We are always so proud to see our graduates take their inspirational life experiences and put them to good use," says Harry Hanson, Founder and CEO of AAPT.
The Dr. Oz Show follows The New York Times, The Boston Globe, and many other prestigious publications that have sought to report on the current evolution of attitudes and standards around fitness, weight loss, and safe training practices. Of particular public interest is the contrast between trainers with education and experience in exercise science, program design, and training techniques, versus those who opt to bypass formal education in favor of going straight to home-study certification.
"There's no contest," explains Hanson, "AAPT graduates are the trainers we all want to hire because we can trust them to get results while keeping our bodies healthy and safe. What good is weight loss or improved fitness if it is coupled with injury?"
"Safe and effective training" is the big idea promoted by AAPT and graduates like Deborah Japper, whose journey through weight loss and becoming a professional personal trainer will be highlighted in an upcoming episode of The Dr. Oz Show.
Headquartered in NYC with a branch in Boston, AAPT is the only occupational school for personal trainers in the Northeast that is nationally accredited and offers Federal Student Aid. AAPT's innovative hands-on curriculum combines equal parts classroom lecture and laboratory instruction, covering subjects including exercise science, customized programming, injury prevention and business planning.