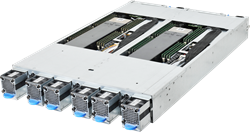 ...companies like Quanta, are exactly the kind of thing that is helping the OCP community make datacenter technologies more innovative, more efficient, and more sustainable.
San Francisco, CA (PRWEB) October 24, 2013
Quanta QCT, an active member of the Open Compute Project (OCP) and design innovator for datacenter gear based upon OCP specifications has achieved OCP Solution Provider status and is launching a full lineup of OCP server, storage and network gear under the Rackgo X product name.
Quanta QCT, a leading manufacturer of server, storage and network products for both public and private cloud datacenters, today began accepting orders for its Rackgo X product series.
The Rackgo X product line includes two server solutions, models F03A and F03C. The lineup also includes one storage JBOD (model JBR) and one 10G SFP+ switch (model T3048-LY2). A server motherboard option, the Windmill F03, is also available. The designs for all products in the Rackgo X line will be contributed back to the Open Compute Foundation so everyone in the industry can consume and build upon them.
Quanta worked with Facebook early in the evolution of what would eventually become the Open Compute Project, providing design, engineering and manufacturing support to Facebook as it developed its first servers. The Rackgo X lineup is inspired by OCP's Open Rack standard.
To help customers get started quickly with Rackgo X, Quanta also offers three reference architectures. The X300 architecture is designed for compute-intensive workloads, while the X500 architecture targets storage- and bandwidth-intensive workloads, and the X700 architecture is tuned for Hadoop and other, more balanced workloads.
The Rackgo X provides a high mean time between failure (MTBF), support for cold-aisle datacenter operation, easily accessible servicing and high rack density. With the combination of centralized power supply and a wider rack width of 21 inches, a much more efficient airflow drives improved power efficiency.
Product lineup details include:

F03A Server – A high-density, 2OU (Open Rack unit) / four node high-density server designed for compute intensive workloads. Its vanity-free motherboard design results in an improvement of MTBF compared to non-OCP 2OU4N servers. An optional dual-port 10Gbps SFP+ card provides VGA redirection for on-site troubleshooting.
F03C Server – This 2OU / 3 node design allows enhanced I/O flexibility, enabling simplified datacenter operations.
JBR Storage – Based on our patented "hidden shelf" design, the JBR doubles density and storage capacity with 28 hot-swappable 3.5" drives in a 2OU configuration. And 80 percent of service calls can be completed in less than three minutes.
T3048-LY2 Switch – Designed for both public and private cloud deployments with layer 2 and layer 3 networking topologies, the T3048-LY2 delivers high performance, low latency and dual speed 1/10 gigabit Ethernet capabilities.
Windmill F03 Server Motherboard Option – The Quanta Windmill F03 is a half-width, Intel Xeon ES-2600 product family motherboard that features dual CPU sockets and 16x DIMM slots for workloads demanding high performance infrastructure. They can be inserted into different Rackgo X enclosures to achieve the desired compute/storage balance for different workloads.
Supporting Quotes
"We are thrilled to see Quanta join the ranks of Open Compute Project Solutions Providers, and to see them expand their commitment to open source hardware by contributing their innovative designs back to the foundation. Investments like this, from companies like Quanta, are exactly the kind of thing that is helping the OCP community make datacenter technologies more innovative, more efficient, and more sustainable."
— Frank Frankovsky
Vice President of Infrastructure, Facebook and chairman and president of the Open Compute Foundation
"It's important for Rackspace and the OCP community to innovate using open hardware standards. This enables us to leverage the best engineering talent across the globe and to bring products to market faster in an efficient and scalable way. To maximize on this opportunity, we have chosen Quanta as one of our technology providers because they offer substantial experience with OCP technology in demanding and highly scalable computing environments."
— Wesley Jess
Vice President of Supply Chain, Rackspace
"Our customers are on a continual quest for the most capital and operationally efficient datacenter designs. The Open Compute Project is intended to address this need, and Rackgo X is the culmination of our long-term OCP design and development effort. Working with innovators like Facebook and Rackspace, Quanta has developed the most comprehensive lineup of OCP spec products available on the market."
— Mike Yang
General Manager, Quanta QCT
About Quanta QCT
Quanta QCT provides a comprehensive line of server, storage and network switch products for cloud datacenter customers that demand the engineering and manufacturing capabilities provided by one of the world's largest hardware companies, but require hardware tuned and optimized to their unique workload specifications. Headquartered in Fremont, Calif., the company's parent is Quanta Computer, Inc., a $34 billion FORTUNE® Global 500 company with more than 100,000 employees located at engineering, manufacturing, sales and support facilities worldwide. http://www.QuantaQCT.com