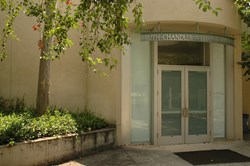 Claremont, Calif. (PRWEB) October 24, 2013
Six valuable Chinese paintings in the Scripps College collection will be conserved with funding from the Institute of Museum and Library Services (IMLS). These damaged works will now be made usable for teaching and display with a $58,385 Museums for America grant.
"These grants will fund the conservation of Chinese paintings so that students and the public can better enjoy them," said Mary MacNaughton, director of the Williamson Gallery at Scripps College. A future exhibition of the works will include an examination of the traditional art of conserving Asian paintings.
Since 2007, the Williamson Gallery has conserved Chinese paintings, and many of these are on view on the Scripps College campus, in the Clark Humanities Museum. Students in Professor of Art History Bruce Coats's course, "Arts of Late Imperial China," research and write about these extraordinary works. Professor Coats, who has written numerous publications and curated several exhibitions on the history of Asian art, utilizes the collection as a resource for art history and humanities seminars at Scripps.
"Seeing digital images and examining actual Chinese paintings are quite different experiences," Coats explained. "To carefully observe how artists have used brush strokes on silk or paper to achieve visual effects helps students intimately understand the production and the contexts of these works. They then use this knowledge to create exhibitions about Chinese cultures. Teaching with 'real objects' is very important to art history and enlivens the classroom or museum experience."
Tomokatsu Kawazu, a conservator specializing in Asian art, will treat the paintings selected for conservation.
The Williamson Gallery houses more than 100 Chinese paintings, primarily from the 16th century Ming and 19th century Qing dynasties. The collection is the second largest of Chinese paintings in Los Angeles available for public viewing.
The Ruth Chandler Williamson Gallery is located at Eleventh Street and Columbia Avenue. During exhibitions, the gallery is open to the public, free of charge, Wednesday through Sunday, from 1 to 5 p.m. For more information, please contact the gallery at (909) 607-3397 or visit the website at rcwg.scrippscollege.edu
The IMLS Conservation Project Support awards help museums identify conservation needs and priorities and perform activities to ensure the safekeeping of their collections. The grants are given through competitive peer review and require that at least a 100 percent match be made by the applicant. This year, the IMLS presented grants of nearly $30 million for 244 projects in a wide array of museums, including art museums, aquariums, science centers, and history museums.
IMLS Director Susan Hildreth says, "The nation's 17,500 museums are trusted spaces where people can follow their passions and connect with their communities in new ways, where treasured collections are used to create unique learning places."
About The Institute of Museum and Library Services
The Institute of Museum and Library Services is the primary source of federal support for the nation's 122,000 libraries and 15,000 museums. Its mission is to grow and sustain a "Nation of Learners" because life-long learning is essential to a democratic society and individual success. Through its grant making, convenings, research and publications, the Institute empowers museums and libraries nationwide to provide leadership and services to enhance learning in families and communities, sustain cultural heritage, build twenty-first-century skills, and increase civic participation. To learn more about the Institute, please visit: http://www.imls.gov.
Scripps College was founded in 1926 by Ellen Browning Scripps, a pioneering philanthropist and influential figure in the worlds of education, publishing, and women's rights. Today, Scripps is a nationally top-ranked liberal arts college and women's college with approximately 950 students, and is a member of The Claremont Colleges in Southern California. The mission of Scripps College is to educate women to develop their intellects and talents through active participation in a community of scholars, so that as graduates they may contribute to society through public and private lives of leadership, service, integrity, and creativity.