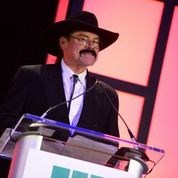 I believe in our people's ability to succeed if given a hand up, not a handout.
Roscoe, MT (PRWEB) October 23, 2013
Gerald Sherman (Oglala Lakota), a pioneer in developing financial products for disadvantaged and underserved Native communities, received the prestigious 'Visionary Leader Award for Outstanding Achievement' at the 10th Annual Native Community Development Financial Institution (CDFI) Convening hosted by Opportunity Finance Network (OFN) and First Nations Oweesta Corporation (Oweesta) last week in Philadelphia, PA.
The honor singles out an individual leader in the field who has made long-term contributions to the Native CDFI industry and whose asset building efforts make him/her an inspiration for others in the expanding Native CDFI movement. Past award recipients have included such distinguished Native funding groups as the Cherokee Nation Small Business Assistant Center, Council for Native Hawaiian Advancement, Citizen Potawatomi Community Development Corporation, and Nii Jii Capital Partners, Inc. in northern Wisconsin.
"Gerald Sherman has dedicated his life to developing financial products and opportunities to empower Native communities to grow through tribal self-sufficiency, asset building, resource stewardship, and sovereignty," said Michael Roberts, President of the First Nations Oweesta Board of Directors.
Promoting excellence and accountability has been a hallmark and grounding philosophy for Sherman over his 30-year career working with tribal leaders and communities as well as Indian land and economic pioneers such as Cris Stainbrook (Oglala Lakota) and the late Elouise Cobell (Blackfeet) to develop and deliver flexible and appropriate financial products to assist tribal land recovery and economic development.
Sherman's dedication to rebuilding Indian Country was born directly from his childhood on the Pine Ridge Indian Reservation, one of the most impoverished communities in the U.S. In 1986, Sherman started the Lakota Fund, one of the first micro-lending institutions in the U.S., to provide loans and technical assistance to tribal members wanting to start or expand business enterprises on the reservation. In 2005, he co-founded Indian Land Capital Company (ILCC), together with the Indian Land Tenure Foundation (ILTF) and the Native American Community Development Corporation(NACDC), to advance the premise that land is the foundation for economic development for any Nation and that in order for Indian Nations to thrive they must return to owning and controlling more of their traditional lands.
"This deep belief in Native peoples' ability to achieve excellence and our collective mandate to hold each other to high standards has remained with me throughout my career," says Sherman. "I believe in our peoples' ability to succeed if given a hand up, not a handout," he adds.
ILCC is a Native owned and managed CDFI that is certified by the CDFI Fund of the U.S. Treasury Department and provides flexible loan options to Indian nations for tribal land acquisition. ILCC has made over $7 million in loans to tribes in 5 states that helped to return some 30,000 acres of land to tribal control. Gerald Sherman has served on numerous Native community boards over the years and currently serves on the board of Indian Dispute Resolution Services in Sacramento, California and the International Advisory Council for the Native Nations Institute (NNI) at the University of Arizona in Tucson, Arizona. He is currently Vice President of the board for the newly formed Native CDFI Network and President of the board of the Indian Nonprofit Alliance in Montana. More information on ILCC and Gerald Sherman can be found at http://www.ILCC.net.
ILCC - The Leader in Tribal Financing for Indian Land Recovery and Economic Development.