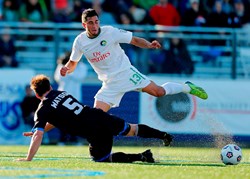 "We want to spoil their party," said Scorpions interim coach Alen Marcina. "For us, this is our championship game. To be the best you have to beat the best."
Miami, FL (PRWEB) October 25, 2013
The league-leading New York Cosmos will once again aim to clinch their first NASL Soccer Bowl berth since they last played for a championship in 1982 when they travel to face the San Antonio Scorpions during North American Soccer League Week 13 action at Toyota Field on Saturday at 8.30pm ET.
Having missed out on the 2013 NASL Fall Season title last week when they conceded a last minute goal against FC Edmonton, a Cosmos win over the Scorpions would secure a berth at the NASL Soccer Bowl to meet the Spring Season winner the Atlanta Silverbacks on Saturday, November 9, in Atlanta, Ga.
A Cosmos draw or even a defeat would also be enough to advance if the Tampa Bay Rowdies fail to take maximum points away to FC Edmonton the following day.
However, the Scorpions, who are among five teams mathematically out of contention for this year's NASL Soccer Bowl, will aim to dent Cosmos hopes on the back of a fine home run having won its last three games at Toyota Field.
"We want to spoil their party," said Scorpions interim coach Alen Marcina. "For us, this is our championship game. To be the best you have to beat the best. This is an opportunity to show our fans that we want to close out with our fourth win in a row at home, and again spoil the Cosmos' party."
A loss or tie by the Cosmos in their first visit to Lone Star State since 1981, will keep the Tampa Bay Rowdies, who are five points behind New York in the Fall standings, in contention for NASL Soccer Bowl provided they in turn defeat FC Edmonton in Canada on Sunday at Clarke Stadium at 4pm ET.
The Rowdies, who have won their last two matches, are taking on a Canadian team that has only lost once since late May at home and has become a 1-1 draw specialist, recording that score in 10 games in 2013. The Rowdies must take maximum points from their remaining two games if they are to overtake the Cosmos.
"Our main objective for the last four games of the season has been to accumulate 12 points and we are half way there," said Rowdies coach Ricky Hill. "We understand how difficult it is to play in Edmonton due to the weather but we realize the importance of these three points. Everyone's focus and determination has been excellent thus far in our preparation and come Sunday we are going to try to earn another three points."
FC Edmonton coach Colin Miller said: "We're looking forward to another entertaining game against a very good Tampa Bay side. Coming on the heels of a terrific team performance, earning a valuable point on the road, we want to bring our best for the home fans who have been great in support all season long."
NASL Week 13 action kicks off on Saturday with the Carolina RailHawks hosting the Atlanta Silverbacks at WakeMed Soccer Park at 7pm ET.
The RailHawks, who were knocked out of NASL Fall Season title contention last week, will put their 14-game home unbeaten streak (NASL and U.S. Open Cup games) on the line against a Silverbacks team that dented Carolina's Spring Season hopes when they last met at the Triangle in June in a 1-1 draw.
"They [Carolina] are a very good team at home and every time we go on the road, like to Carolina, I'm always thinking that we're going to steal some points," said Silverbacks coach, Brian Haynes. "They haven't lost a game at their place, and I would love to break their streak. It's going to take a lot of concentration and work to make that happen, and Colin [Clarke] always prepares his team well."
Also on Saturday, Minnesota United FC looks to finish at home on a high note and end a three-game losing streak when hosting the Fort Lauderdale Strikers at NSC Stadium at 7pm ET.
"We really have played well at home the last couple games and haven't won and haven't scored," United coach Manny Lagos, who's club has dropped two of its last three at home this season. "There is a lot of tension and stress for us to do well at home, we know it has been an issue this year, we really want to finish strong for our fans and our team and for next year."
NASL Week 13 Schedule (All kickoff times US EST)
Saturday, October 26
Carolina RailHawks vs. Atlanta Silverbacks
WakeMed Soccer Park; Cary, N.C. 7:00 pm
Minnesota United FC vs. Fort Lauderdale Strikers
NSC Stadium; Blaine, Minn. 7:30 pm
San Antonio Scorpions vs. New York Cosmos
Toyota Field; San Antonio, Tex. 8:30 pm
Sunday, October 27
FC Edmonton vs. Tampa Bay Rowdies
Clarke Stadium; Edmonton, AB. 4:00 pm
Tickets for NASL Soccer Bowl 2013 are now on general sale and can be purchased by calling 404-969-4900 or booking online at http://www.atlantasilverbacksfc.com. The NASL Soccer Bowl 2013 official website is now live at http://www.NASLSoccerBowl.com.