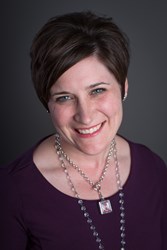 'We are a company dedicated to our mission of reminding women everywhere of the power within,' said Janet Kinkade, JK Founder, President & Designer. 'Stacy is a perfect fit for our Stylists....'
Alpine, UT (PRWEB) October 24, 2013
Jewel Kade is pleased to announce Stacy Schindler will be joining the artisan jewelry and décor direct sales company as Senior Field Development Manager, beginning late October. Schindler will work closely with Pam Herbert, JK Vice President of Sales, in providing sales and sponsoring support, training and development for Jewel Kade's nearly 5,000 Stylists across the US and Canada.
Schindler brings more than 15 years' experience in direct sales, business development and training, where she has elevated performance for both executives and front-line sales teams throughout her career. At The Body Shop at Home, Schindler was a top-performing direct sales consultant and leader, building a team that spanned the country and consistently earning company recognition for her achievements. While at The Longaberger Company, she supported the growth and development of the handcrafted basket company's sales force as a member of the sales management team.
Schindler has taken her sales and training expertise to the retail and financial services industries, as well, where she was Senior Instructional Designer for Limited Brands, and a developer and trainer for the Ohio Bankers League and Victoria's Secret Stores. Now her career path comes full circle as she joins Jewel Kade, eager to re-enter the direct sales world and empower women to succeed by building their own businesses. Schindler holds two bachelor's degrees from Ohio University in communication management and organizational communication, with the completion of a master's degree in organizational communication from Ohio University expected May 2014.
"Jewel Kade is more than an artisan jewelry company," said JK Founder, President & Designer Janet Kinkade. "We are a company dedicated to our mission of reminding women everywhere of the power within. Stacy strikes me as an accomplished professional with a heart for lifting other women. Stacy is a perfect fit for our Stylists, and I'm excited to see her in action among the women who make up Jewel Kade."
"Jewel Kade has been growing steadily since our launch four years ago, and we are now poised for even more rapid growth," said Brett Blake, JK Chief Executive Officer. "We are thrilled to add Stacy to the sales team. While she is an accomplished direct seller and trainer with both US and international experience, we hired Stacy because of her passion for helping others reach their potential. Stacy will be completely focused on the success of our Stylists."
About Jewel Kade
Artisan jewelry. Handcrafted charms. Inspiring décor. Available through JK Stylists throughout the US and Canada, Jewel Kade is a fresh take on timeless fashion. Founded by Designer Janet Kinkade, Jewel Kade's Signature Charms and Poetry Custom Canvases are all handcrafted in JK's Production Studios in Alpine, Utah. Jewel Kade has garnered national attention – appearing on ABC News, The Today Show, The Ellen Degeneres Show, and American Idol. (Citing media references does not imply endorsement of Jewel Kade products in any way by media, related production companies or related spokespersons/personalities.) Committed to making a difference, Jewel Kade also offers the JK Cares Collection. For every JK Cares piece purchased, 5% of the proceeds goes directly to help in the fight against breast cancer. For more information on Jewel Kade's inspiring story, artisan jewelry and Poetry Custom Canvases, visit http://www.jewelkade.com.