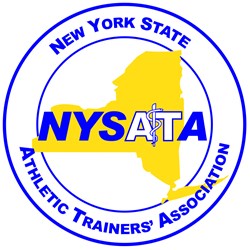 Show your community that you value and take pride in providing quality care for your athletes - at all levels of sports participation!
Albany, NY (PRWEB) October 24, 2013
The ten-day event is for schools to bring attention to their current efforts in providing sports safety, as well as encourage public awareness of its importance. Athletic Training (AT) Recognition Week should help school officials, coaches, parents and others involved with sports at all levels of participation – from youth to high school to collegiate and beyond – understand the vital need to provide appropriate medical care for their athletes. Athletic injuries can be, at minimum, physically painful and emotionally draining, and, at worst-case, catastrophic and life-threatening.
With the support and participation of athletic departments and sports organizations across New York State, sports safety will be brought to the forefront and athletic trainers (ATs) will be recognized for continually providing quality healthcare to their athletes. The commitment and dedication of these healthcare professionals to the athlete enhances the quality of care provided. Their expertise in the assessment, emergency management, rehabilitation and prevention of acute and chronic sport-related injuries, illnesses and conditions, including concussions, helps athletes stay healthy and remain active.
While many higher levels of sport, including professional and collegiate, employ athletic trainers, only about 42-percent of public high schools nationwide have access to a certified athletic trainer and that percentage is even lower in New York State. Additionally, there are still schools that do not employ even a school nurse and 47-percent of schools nationally fall short of the federally recommended school nurse-to-student ratio. With the growing number of students participating in sports and the high incidence of injuries, including concussion, in these sports it is critical that schools provide suitable injury prevention, assessment and management support just as they provide coaching support.
The Youth Sports Safety Alliance (YSSA) reported CDC statistics that note, since 2001, an average of nearly 200,000 sports-related traumatic brain injuries (TBIs) in youth (<19 years old) occur in the U.S. per year, with nearly 250,000 in 2009 alone. Based on statistics from the National Athletic Trainers' Association (NATA), the YSSA also reported nearly 50 youth fatalities just in 2010 from injuries and conditions related to participation in school athletics. We hope school officials and the entire community will recognize the many advantages of employing an athletic trainer.
Certified athletic trainers (ATs) are well-educated, highly skilled healthcare providers who, among other things, can be a valuable resource in regard to sport-related injury and illness recognition and management, as well as overall health and safety. Ideally, school districts, including boards, administrators, teachers, and PTAs, those involved in sport-related activities, and other associated medical and healthcare providers will look to their AT and NYSATA for consultation and assistance with health and safety issues related to athletics.
ATs collaborate with physicians to optimize activity and participation of patients and have been recognized as health care professionals by the American Medical Association (AMA) since 1991. Athletic Training Education includes extensive educational requirements, both in the classroom and through clinical experiences, and the 'ATC' credential includes certification requirements at both the state and national levels in NYS. Additionally, more than 70-percent of certified athletic trainers hold at least a master's degree and ATs must complete continuing education to maintain their BOC certification, which helps keep them up-to-date on the most current topics in athletic health and safety. ATs differ from personal/fitness trainers or "trainers" who focus solely on fitness and conditioning and have varying levels of education.
Help show your community and the sports world at all levels that you value and take pride in providing quality care for your athletes! Please encourage the use of the NYSATA "Athletic Training Recognition Week" public service announcements (PSAs) during home contests beginning this Friday (Oct. 25), through Sunday, November 3rd.
NYSATA, founded in 1976 and incorporated in 1989, stands to advance, encourage and improve the profession of athletic training (AT) by developing the common interests of its membership for the purpose of enhancing the quality of healthcare for the physically active in New York State. Comprised of over 1,200 certified and practicing athletic trainers, NYSATA is the state-wide affiliate of the regional Eastern Athletic Trainers' Association (EATA) and District Two of the National Athletic Trainers' Association (NATA).