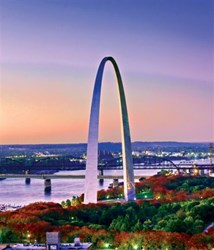 (PRWEB) October 24, 2013
The Cardinals once again have made it a "Red October" in St. Louis. The area welcomes baseball fans heading to town for Games 3, 4 and 5 of the World Series.
Whether you've scored coveted World Series tickets or not, guests can still get in on the baseball action and fall events during a St. Louis visit. For information about St. Louis' red hot baseball sites, amazing dining and attraction options, visit the St. Louis Convention & Visitors Commission website or call 1-800-916-0040.
St. Louis is known as the "Red Sea on the Mississippi" for the thousands of red-clad fans filling the seats during a game. Join the crowd. Participate in a baseball heaven dream trip by visiting some St. Louis major league sites:
1) The St. Louis Cardinals have been making magic on the field in St. Louis since 1892. Squirrel away some Major League history at Busch Stadium as you rally 'round the statues of St. Louis' Hall-of-Fame players that grace the entry to the Team Store at 7th and Clark streets. The action-poised figures include Redbird stars Bob Gibson, Dizzy Dean, Red Schoendienst, Rogers Hornsby, Ozzie Smith, Lou Brock and more. The "meeting place" at the Stan Musial statue is located at the Third Base entry along 7th Street.
2) St. Louis' baseball greats also are honored along Delmar Boulevard in The Loop neighborhood along the St. Louis Walk of Fame. Brass star-shaped plaques embedded in the sidewalks honor famous St. Louisans who have made their mark in baseball and the arts, science and history. Baseball is duly represented with markers and biographic plaques for Stan Musial, Yogi Berra, Joe Garagiola, Bob Gibson, Lou Brock, Cool Papa Bell, Dizzy Dean, Rogers Hornsby, Branch Rickey and Red Schoendienst. Honorees also include fabled baseball broadcasters known for their work in St. Louis: Jack Buck, Harry Caray and Bob Costas.
3) Take a 630-foot ride to the top of the Gateway Arch! This world-famous stainless steel monument offers a fine view of St. Louis. Then stop by the Jefferson National Expansion Memorial to get a glimpse of where Lewis and Clark set out on their historic expedition! Visitors can also hop aboard a 19th century paddle-wheel boat replica for a narrated cruise down the mighty Mississippi.
4) Looking for a fun night out? Head to Washington Avenue, Soulard, Central West End, Loop or Laclede's Landing and take your pick of some of the hottest bars and dance clubs in St. Louis (most are smoke free and open till 3 a.m.). Visitors can also go for dinner, drinks and a show at Westport Plaza's 42-acre entertainment district, or check out the trendiest boutiques and upscale dining establishments in Clayton and the Central West End.
5) Get up close and personal with the furry, the flying and the fishy creatures of the Saint Louis Zoo. One of the city's many free attractions, the Saint Louis Zoo has been recognized as one of the nation's leading zoological parks.
6) Visit the region's first interactive children's museum, built in a sprawling Victorian mansion in suburban St. Louis. Kids will enjoy all sorts of fun and educational activities at the Magic House, including sitting at the president's desk in a spot-on recreation of the Oval Office and performing patriotic karaoke. In a miniature town, kids can play grownup for a day as they change the tire on a wooden car, stock shelves in a model grocery store or serve pizza in a pretend kitchen. Visitors can even climb a three-story beanstalk, spin a giant kaleidoscope or perform a puppet show!
7) Once home to the 1904 World's Fair, Forest Park is one of the largest urban parks in the United States. It attracts 12 million visitors a year with world-class attractions and scenic walking and biking trails. Other points of interest include the Jewel Box, a beautiful greenhouse filled with magnificent floral displays and the golf courses. The Saint Louis Art Museum, Missouri History Museum, Zoo and Science Center all call Forest Park Home.
8) Enjoy a fusion of sculpture and landscape architecture at Citygarden, an urban oasis featuring works of modern and contemporary art, native plants, six rain gardens and a café overlooking the beautiful scene. Or discover the stunning Laumeier Sculpture Park with over 70 outdoor sculptures, a music amphitheater for special events and a traveling series of exhibitions.
9) Take a tour of the historic Anheuser-Busch Brewery where you can visit the Budweiser Clydesdales and sample a variety of premium brands. For more local flavor, stop by Schlafly Bottleworks for a free brewery tour and to try a few of the 50 different styles of beer. Enjoy live music and dining at both the Bottleworks and the Schlafly Tap Room. For a taste of something new, stop by one of St. Louis' many microbreweries such as the Square One Brewery & Distillery, which opened in 2006 as the first microdistillery restaurant in Missouri.
10) Explore the City Museum's unique all-ages playground filled with caves, slides and climbing apparatus made from recycled and found objects. Visitors can interact with over 10,000 sea creatures in the World Aquarium, venture through the Museum of Mirth, Mystery and Mayhem and wander through the Elmslie and Sullivan architectural exhibit.