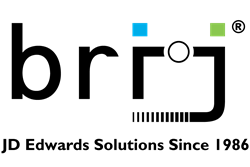 Greensboro, North Carolina (PRWEB) October 24, 2013
With the upcoming Fall 2013 Southeast Conference hosted by Oracle Gold Partner brij, end users have many exciting educational and networking opportunities to look forward to. With a profound focus on the end user experience, the annual conference agenda will highlight many key topics including reporting and user productivity enhancements, private cloud options, upgrade planning, security and more.
Conference activities will kick off on Monday, November 11, 2013 with a series of interactive workshops hosted at brij's dedicated training facility in Greensboro, NC. Workshop topics will include Tools 9.1.3, EnterpriseOne Pages and Advanced Pricing.
The conference will begin at 9am the following day, November 12, 2013, at the Grandover Resort, also located in Greensboro, NC. This year's conference theme, "Welcome to the New Age" will be expressed throughout the conference keynote and breakout presentations highlighting the recent application and platform innovations that are enhancing the end user experience, increasing user productivity and allowing for greater visibility throughout the organization, in turn helping organizations effectively manage operational costs.
As an added bonus, brij will be rewarding attendees from the company with the most participants with individual prizes. During the conference attendees will have the opportunity to participate in "Game Breaks" and enter to win many prizes including Kindle Fire HD, Keurig Brewing System, NeatDesk Digital Filing System and more.
Past attendees have benefitted from JD Edwards functional and technical presentations, third party product demonstrations, application-focused discussions with product experts, including Oracle executives, upgrade planning workshops, and opportunities for un-fettered hands-on access to all new JD Edwards versions and modules through the live software Playday™.
For more information or to register, visit http://www.jdedwardsse.org or call 336-854-2948.
About the JD Edwards Southeast Conference:
Once a part of the JD Edwards/PeopleSoft Southeast User Group (SE RUG), the JD Edwards Southeast Conference was created to focus specifically on JD Edwards Solutions. The JD Edwards Southeast Conference has been JD Edwards "only" focused for many years and holds an annual regional conference, several local events throughout the Southeast, and regular educational webinars.
About brij Image & Information:
As one of the oldest Certified Oracle JD Edwards reseller partners in the United States, brij has been providing in-depth JD Edwards technical and application sales, consulting, upgrade support services and project management since 1986. With over 100 JD Edwards customers, brij has assisted and managed implementations, upgrades and ad-hoc staffing across the Eastern United States, while consistently delivering on time, on-budget projects. Our goal is to increase customer self-sufficiency and long term value.
We host multiple JD Edwards-specific User Conferences for our customers every year and offer a number of free educational web presentations and networking events. Our ongoing development of strategic alliances has allowed brij to broaden our reach to the JD Edward's Community. As a long-time partner and resource to the JD Edwards community, we feel it is our duty to facilitate user-to-user communication and to educate customers on product enhancements, updates and industry trends. To learn more visit, http://www.brij.net.
About Oracle PartnerNetwork
Oracle PartnerNetwork (OPN) Specialized is the latest version of Oracle's partner program that provides partners with tools to better develop, sell and implement Oracle solutions. OPN Specialized offers resources to train and support specialized knowledge of Oracle products and solutions and has evolved to recognize Oracle's growing product portfolio, partner base and business opportunity. Key to the latest enhancements to OPN is the ability for partners to differentiate through Specializations. Specializations are achieved through competency development, business results, expertise and proven success. To find out more visit http://www.oracle.com/partners.
Trademarks
Oracle and Java are registered trademarks of Oracle and/or its affiliates.
###