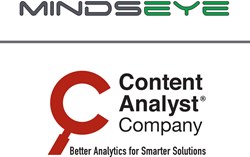 Companies today are addressing information governance issues, but it's happening in pockets and for standalone events such as eDiscovery - Bob Krantz, CEO, Mindseye
ARLINGTON, Va. and RESTON, Va. (PRWEB) October 29, 2013
Mindseye, a leader in eDiscovery technology and workflow solutions, and Content Analyst Company, developer of the market-leading CAAT concept-aware text analytics engine, announced the availability of a new report on information governance (IG), titled "eDiscovery Roundtable: The State of Information Governance and Advanced Analytics." The report is based on a roundtable discussion held during the recent International Legal Technology Association (ILTA) conference in Las Vegas.
"We assembled a panel of legal, IT, records management, knowledge management, litigation support, and consulting thought leaders from Fortune 500 corporations and Am Law 250 firms," said Kurt Michel, president and CEO at Content Analyst Company. "The participants brought unique experiences and perspectives about analytics and information governance, and collectively provided insight on the real-world challenges organizations are facing, clearly pointing to the need for new approaches to address those challenges."
"Companies today are addressing information governance issues, but it's happening in pockets and for standalone events such as eDiscovery," said Bob Krantz, CEO of Mindseye. "As a result, they're not capturing the full value of their data across the organization. What our report shows is that there's a groundswell of dissatisfaction with the IG status quo, and organizations are just starting to figure out the combination of planning, process, people, and technology needed to fix it."
Key insights from the report include:
Managing the volume, velocity and variety of unstructured corporate information is becoming increasingly difficult

It's not just the volume and growth (velocity) of information that create challenges. Data variety, driven by BYOD ("bring your own device") and many different unstructured types of corporate information, makes it extremely difficult to manage.
The cost of storage is not the issue; rather it's the cost of finding relevant documents for litigation and the potential risk of unnecessarily retaining sensitive documents that have greater potential financial impact for the enterprise.
Better security practices and controls are needed to ensure that data used externally by law firms and service providers in litigation gets promptly destroyed at the conclusion of the matter.
Organizations are struggling with IG ownership

A natural lack of ownership of unstructured corporate information has led to the development of "chief data officers" who are responsible for corporate information governance.
A holistic approach needs to be taken to address information governance issues.
Goals and objectives need to be clearly identified and communicated before selecting appropriate technology to address the needs.
Technology is critical but only when properly deployed

Wide-ranging initiatives like IG require technology approaches that can address the various needs of the stakeholders. Often, there is no single solution that will achieve the goal.
Technology alone cannot address IG issues – a deeper understanding of the problem, combined with the right processes, is required to address these challenges.
Without key ownership and communication of value, technology initiatives may not get required support and buy-in, which can slow adoption.
Advanced analytics offer the potential to capture more value from corporate data

IG-oriented organizations should leverage advanced analytics to implement their IG policies and procedures.
Advanced analytics can reduce costs when applied to data on receipt, saving time in the review process and organizing the data for future use.
Using advanced analytics to categorize unstructured data can help reduce the volume of data not just in legal matters, but across the broader landscape of information governance.
The full report is available for download here.
About Mindseye
Mindseye is a leading provider of eDiscovery software solutions. TunnelVision, the company's flagship eDiscovery platform, was launched in 2009 to help organizations manage risk, minimize legal exposure, and eliminate wasted time and money throughout the discovery process. Delivered through a fixed-cost licensing model or as a stand-alone eDiscovery appliance, TunnelVision is a scalable solution built on an iterative workflow design. Organizations that use TunnelVision can quickly input and access early data to make cost and resource estimates, formulate strategy and case direction, and ultimately move less but more relevant data to review. Mindseye is an active participant in the Electronic Discovery Reference Model (EDRM) Project and The Sedona Conference. The company is employee owned, profitable, and has experienced consistent revenue and profit growth year over year. For more information, visit http://www.mindseyesolutions.com or follow us on Twitter at twitter.com/Mindseye_TV.
About Content Analyst Company
We provide powerful and proven Advanced Analytics that exponentially reduce the time needed to discern relevant information from unstructured data. CAAT, our dynamic suite of text analytics technologies, delivers significant value wherever knowledge workers need to extract insights from large amounts of unstructured data. Our capabilities are easily integrated into any software solution, and our support strategy for our partners is second to none. For more information, visit http://www.contentanalyst.com.