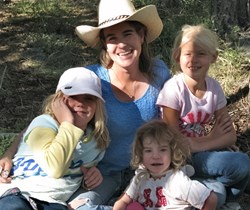 "In order to find "true voice", writing must happen.
Cody, WY (PRWEB) October 25, 2013
O.L. Shepp's most treasured motivator for getting back to writing is Nanowrimo.org's (The National Novel Writing Month) of November where authors congregate to write as many words as possible.
This late October this author gets back to writing, not marketing. The recent months, O.L. Shepp has placed most of her resources and writing focus on the marketing of her book, Cooking For The Health Of It. (Which has gained ground from these efforts.) However, in writing to promote this book, little time has been left for the author to write.
O.L. Shepp, agrees that, today, authors must be involved in the publishing, promoting and the distribution of their works. The time and energy required here, though, can and does take away from the author's writing time. And when the writing/author enjoys spending time in the marketing and publishing realm of the writing process, the author's writing, and purpose of writing is neglected, or even forgotten.
Nanowrimo's writing months of November is approaching, in the nick of time, to shed light on O.L. Shepp's writing. Searching for her voice amid the literary world, O.L. Shepp prepares to write the month of November away. Finding one's voice is the initial hurdle of any author's career. Without an authentic voice; story is nothing. And in order to find "true voice', writing must happen. In recognizing that one is not a writer unless one is writing, O.L. Shepp is organizing an outline to her upcoming fiction novel the remainder of October.
O.L. Shepp continues to write and promote her book of cowboy lore, recipes and western humor, yet this November be watching at Olshepp.com for free excerpts and short stories, as O.L. Shepp is getting back on track with writing fiction.