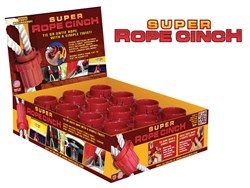 Even wet rope is no challenge for the Super Rope Cinch.
Nashville, Tenn (PRWEB) October 24, 2013
The award-winning Super Rope Cinch rope-securing device has become a favorite with men, women and children, because securing items with rope requires no knowledge of tying or untying knots. The device is commonly used for securing boats, cargo, lumber, tents, luggage, and even small aircraft.
The popular Super Rope Cinch device won the prestigious Members' Choice Award by one of Home Depot's nearest competitor's, which is partly the reason Home Depot has begun stocking the rope fastening tool this October. Home Depot is the perfect retailer for a device like the Super Rope Cinch, because they offer so many different brands and sizes of rope on the same isle. The Super Rope Cinch works perfectly with any pliable rope from 1/8" to 5/8" in diameter.
About the Super Rope Cinch
The Super Rope Cinch is manufactured in the USA by Just Right Products LLC, a Michigan-based LLC. The Super Rope Cinch performs the simplest of tasks: It ties and unties ropes without using a knot. "Now, anyone can secure items with rope, even if they've never tied a knot before. No more messy knots, or having to cut good rope which happens a lot when using traditional knots. Even wet rope is no challenge for the Super Rope Cinch, since it unlocks with only the press of a button", according to the product inventor, Tim Bourke.
Currently, there are over
The Super Rope Cinch is now in-stock at the following Home Depot Home Improvement Stores in Atlanta, GA, and is expected to go into all Home Depot stores in the coming months after the test period concludes:
Home Depot - 1032 RESEARCH CENTER - ATLANTA, GA 30331
Home Depot - 2525 PIEDMONT ROAD NE - ATLANTA, GA 30324
Home Depot - 3885 JONESBORO RD SE - ATLANTA, GA 30354
Home Depot - 4343 TILLY MILL RD - ATLANTA, GA 30360
Home Depot - 6400 PEACHTREE-DUNWOODY RD - ATLANTA, GA 30328
For more information, contact the product's inventor Tim Bourke at 248-343-4834, or visit the Super Rope Cinch website at Visit http://www.SuperRopeCinch.com.