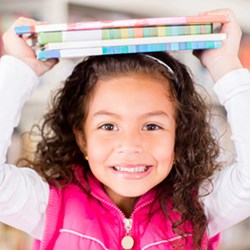 "We really wanted to encourage children to read and realized that perhaps not every school has the proper resources to provide great books for kids." - Margo Redfern, CEO, flattenme
Los Gatos, CA (PRWEB) October 23, 2013
After being entered by student teacher Ann Thuet, Zitzman Elementary of Pacific, MO went on to beat thousands of other entries to win the highly coveted prize. Zitzman doesn't have a lot of extra resources to spend on the library, so the money has come as a welcome boost and is sure to excite the children learning there.
The school, which has the motto 'where character counts,' are free to spend the money on whatever books they wish, everything from fairy tales to fantasy and educational to easy reading, all in the name of getting kids reading and allowing them to escape into a world of imagination; a sure fire wire to get those creative cogs turning.
Flattenme.com specializes in personalized gifts designed to excite and inspire the imagination of children. Products including wall art, water bottles, t-shirts, cards and of course, books. All have the sole aim of encouraging children to have fun with their own mind, with of course, a little help from Flattenme.
Flattenme owner Margo Redfern said: "We are so pleased to donate this $1,000 cheque to a school that so deserves it."
"After chatting with principal Linda Paul, we realized that the prize had gone to a really deserving winner. Our donation will really give them something that they wouldn't have otherwise been able to have."
After founding the company in 2007, Margo wanted to give a little back somehow, and it seemed a natural progression to hold a competition that embodied all the underpinnings of Flattenme; imagination and of course, the children themselves!
Margo added: "We really wanted to encourage children to read and realized that perhaps not every school has the proper resources to provide great books for kids."
"Zitzman Elementary has around 450 students enrolled there, so we are absolutely certain that now that they can start spending, they will really make the most of the donation and nurture our little minds of tomorrow through the beauty of reading."
Flattenme.com is a magical personalized book and custom gift company that makes every child feel special and gives a jump start to a love of reading.