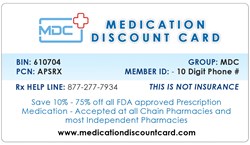 Our prescription savings card is not tied to health insurance in any way.
Margate City, NJ (PRWEB) October 24, 2013
Jeremy Duboys of Medicationdiscountcard.com has good news for worried healthcare consumers: the 2014 rollout of the Affordable Care Act, or Obamacare, will have no effect on his company's work.
"Our prescription savings card is not tied to health insurance in any way," explained Duboys, "so the healthcare law does not apply to us. Of course, some consumers have already begun to notice the effects of Obamacare. The individual mandate means that most uninsured people will be required to sign up for a policy or face a penalty. Many people have been asking if the law will change how we do business, and the answer is 'no.'"
It should be noted that even at this late hour, Obamacare is not a done deal. The current federal government shutdown is largely the result of debate over funding of the enormous healthcare legislation. Many Republicans would like to see the individual portion of the law delayed for a year. That outcome is unlikely, but not impossible, considering that just such a delay was put in place for small businesses.
While health insurance for all sounds like a nice proposition, the reality is that most insurance policies provide only marginal, if any coverage for prescription drugs. Individuals with insurance under Obamacare may still face high deductibles. Some classes of drugs, such as smoking cessation aids and weight loss drugs, are routinely left out of even upper tier policies. A chronic condition requiring monthly refills of an expensive drug can quickly sink a family's budget.
Medicationdiscountcard.com fills the coverage gap by providing discounts on thousands of prescription medications at pharmacies around the country. These discounts rage from 10 to 75 percent off the normal price, which in many cases is a better deal than any insurance benefits. The card can be used to save on prescriptions prior to deductible requirements being fulfilled if a receipt of purchase is sent to the individual's insurance carrier.
Almost all prescription medications are available for discounts including:
Cymbalta Coupon
Vyvanse Coupon
Advair Coupon
Epiduo coupon,
Medicationdiscountcard.com is fast, convenient and safe. There are no fees or lengthy forms to fill out. Age or health status do not matter; everyone is eligible to use the card. Consumers simply print out a single card, which they can use again and again on all of their prescriptions. In an age when personal data is constantly tracked and analyzed, the relative anonymity of Medicaitondiscountcard.com's services is a welcome change of pace. The site does not sell or otherwise distribute any personally identifiable information.
The discount card is accepted at all major pharmacies, including Walmart, CVS Rite Aid and Walgreens. The pharmacist only has to enter the cardholder's information into the system on the first visit. After that, saving on prescription medications could not be easier.
Ultimately, consumers should rest assured that whether or not Obamacare goes into effect on January 1, Medicationdiscountcard.com will remain a trusted source for prescription discounts. Duboys encourages everyone to print out their own card before their next visit to the pharmacy.
About Medicationdiscountcard.com
Medicationdiscountcard.com was started to provide discounts on prescription drugs to those who need it most. Our goal is to provide you with the largest savings possible when compared to other cards. We invite you to compare the savings our card will provide to other leading providers.