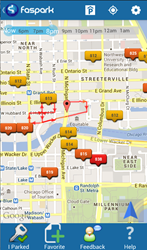 We have always wanted to be able to offer a holistic parking solution to drivers in Chicago, and thanks to ParkWhiz we are now able to. Chicago finally has a one stop parking solution.
Chicago, IL (PRWEB) October 31, 2013
ParkWhiz, the nation's largest and fastest-growing online parking company, has announced a partnership with Faspark, the leading provider of on-street, and now off-street, parking information in Chicago. With ParkWhiz integration, Faspark's app now truly offers users a universal parking solution.
Faspark uses proprietary and public data sources to predict the likelihood of street parking options surrounding a given point. Drivers navigating Chicago can instantly find street parking near their location and filter between free spaces, zoned/permit areas and metered parking. ParkWhiz now adds over 140 garages and lots in Chicago for Faspark users to choose from, making Faspark's app a complete answer to Chicago's parking dilemma.
"Drivers in Chicago can now readily find information on parking anywhere it's available, and if it's off-street, guarantee the space at a price they know they're comfortable with," said ParkWhiz CEO Aashish Dalal. "Here at ParkWhiz, our central mission is to reduce the everyday hassle of finding the perfect parking spot, and make the lives of drivers easier; this partnership does exactly that. We're excited to be able to come together and provide our users with such a comprehensive parking tool."
More than 1 million people have used ParkWhiz.com. Drivers can book special event parking and purchase discounted downtown parking at up to 60% off drive-up rates. The company works with thousands of parking facilities nationwide and gives customers access to the world's largest online parking inventory with over 3 million parking spaces. Locally, ParkWhiz provides access to over 150 downtown Chicago parking and monthly Chicago parking locations.
"We're very excited about the partnership with ParkWhiz," said Faspark CEO Eyal Amir, "It represents a great step forward for both companies. Our customers can now not only look for free, paid, permit parking, but also for discounted parking in a parking structure. We have always wanted to be able to offer a holistic parking solution to drivers in Chicago, and thanks to ParkWhiz we are now able to. Chicago finally has a one stop parking solution."
The Faspark app, available in the iTunes and Google Play stores, uses geolocation to pinpoint the user's whereabouts as they drive through Chicago. The user can conduct a "quick search" to display a map of his area with street parking availability shown in red, orange, yellow or green lines. Drivers planning ahead can search for parking near a destination of their choice en route and specify the number of blocks Faspark displays around the search point. Commuters frequenting Chicago can store destinations for quick snapshots of the current parking situation. Once a driver locks in his space and steps out of his car, he can use the "I Parked" feature to save his car's location in case he has any trouble finding where parked upon return.
Faspark estimates it saves users $2 to $20 per space and 20 to 300 minutes per month on parking investments with its technology to direct drivers to free street parking. ParkWhiz found the partnership attractive due to Faspark's information-technology, location-based intelligence, and their mutual mission to provide parking solutions for drivers and vehicle fleets of any size.
About ParkWhiz:
Headquartered in Chicago, ParkWhiz is the industry leader for booking online parking. The company's website and mobile apps provide a fast and efficient way for drivers to find and book guaranteed parking spaces before reaching their destination. Locally, the company offers extensive Downtown Chicago Parking and Monthly Chicago parking options. ParkWhiz is an official partner of StubHub and TicketsNow. The company also has partnerships with professional sports teams including the Indianapolis Colts, Baltimore Ravens, US Airways Center, NCAA teams, and other major sports and entertainment venues.
For more information, visit ParkWhiz.com.
About Faspark:
Faspark is the leader in street-parking information. Co-founded by University of Illinois Professor and Stanford University alum Eyal Amir and DePaul, Argonne, UBS alum Sergei Kozyrenko, Faspark's technology speeds up drivers looking for street parking. It uses proprietary and public data sources to recommend driving routes that reduce street parking time by 70% and more. Faspark gives complete coverage of Chicago, IL and Munich, Germany including all free spots, all zoned (permit) spots, and also all pay (metered) spots. Faspark also shows information on parking structures available near location.
For more information, visit Faspark.com