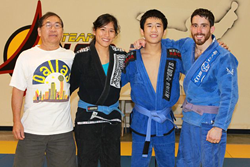 School is always the priority, but Chris will have a bright future in Brazilian Jiu-Jitsu as well- Julius Park, Head Coach
Baltimore, MD (PRWEB) October 23, 2013
Chris Tran is a freshman at College Park who trains martial arts in his spare time at Crazy 88 Brazilian Jiu-Jitsu. This past Sunday he participated in the Abu Dhabi Pro Trials tournament in New York and won silver. Tran won 3 matches despite the fact that he has a full-time schedule at a school with a high level of academic success.
The Abu Dhabi Pro Trials are Brazilian Jiu-Jitsu tournaments which serve as qualifying events for the Abu Dhabi Pro. Those who qualify are flown to Abu Dhabi for a seven day trip to compete in a tournament in front of the Sheikhs and win cash prizes. This tournament serves as one of the highest level Brazilian Jiu-Jitsu competitions in the world.
Chris currently holds a purple belt in Brazilian Jiu-Jitsu under Master Julius Park. Earlier this year he took second place at the World Championship in California at blue belt rooster weight. Shortly after he was promoted to purple belt and has been consistently placing at tournaments ever since. This is a time when most competitors struggle to place and win, however Chris has continued to keep a steady training schedule and has worked hard to keep his momentum.
Crazy 88 Brazilian Jiu Jitsu's programs have been producing top athletes since it opened in 2005. It is not surprising that a young man as dedicated as Chris has seen so much success in this sport while training at a facility like Crazy 88. Master Julius Park said, "Its great to see Chris be able to seek an education and compete at the same time. School is always the priority, but Chris will have a bright future in Brazilian Jiu-Jitsu as well.
For more information on Chris Tran and Brazilian Jiu-Jitsu competition training in Elkridge Call: 443-283-1450 or visit http://www.BaltimoreMixedMartialArts.com
For information on training in Owings Mills Call: 410-999-1064or visit http://www.Baltimore-MMA.com