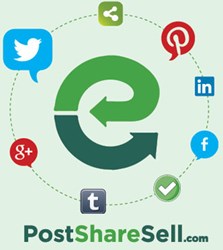 Tampa, FL (PRWEB) October 24, 2013
There's a new way to enter the digital marketspace.
PostShareSell.com is a business directory and a social media mashup. It allows businesses or individuals to enter an interactive, online marketspace, where they can post listings for products offered or services provided.
The platform integrates social media data to the selling process, making it possible to share, track and analyze the popularity of the listing in real time. The marketspace is designed to easily allow parties to find each other, engage in communication, and establish a high-quality "buyer-seller" relationship.
"With one person liking your listing on, let's say, Facebook, it will now show up on their timeline, their friends' timelines, and their friends' friends' timelines. The possibility of your listing going viral and producing a long list of potential buyers is endless."
The blending of social media with e-commerce makes for a marketspace where communication flows freely, as if the sale was taking place in person. It strips away the hassles of dealing with a third party, and enables transactions to take place smoothly.
The creators of PostShareSell understand that relationship building is an integral part of creating a successful business. As a result, PostShareSell gives away prizes on a weekly basis as a way to thank users for choosing to exchange goods through the site. There is a weekly prize of $100 given to the creator of the most viral listing, as well as prizes given away to randomly selected registered members.
"Every customer plays a key role in all of our customers' success. Our belief is that our company is as valuable as its members. This is exactly the reason why we are constantly rewarding our customers. They need to know their value, and our goal is to deliver that message loud and clear."
For more information, please visit http://www.postsharesell.com. Inquiries can be sent to info(at)postsharesell(dot)com.