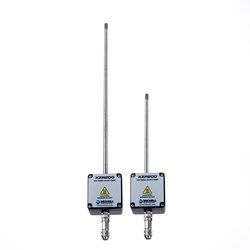 Rowley, MA (PRWEB) October 24, 2013
Michell Instruments announces the launch of the XZR200 Oxygen Analyzer. With a built-in early warning system, the XZR200 alerts operators to faults within the unit. A 3.3 V DC logic output acts as a 'heartbeat' that enables operators to check the health of the sensor. This health monitor prevents false oxygen measurements from causing loss of product or poor combustion, higher fuel costs and penalties.
The XZR200 Oxygen Analyzer is very cost effective and capable of measuring percent oxygen to better than 1% of span (or 0.5% O2) with ranges of 0-25% and 0-100% available. The easy-to-install analyzer offers four configuration options, with two choices of probe length and two temperature ranges. The lower temperature range is suitable for low-temperature applications like food and beverage packaging, while the higher temperature range serves combustion control.
The Michell XZR200 Oxygen Analyzer sensor is highly reliable with up to 7 years life expectancy in clean gases and up to 1 year in very aggressive conditions such as coal fired combustion. The product is designed to integrate seamlessly into existing systems as no special software is required and the RS232 output can be accessed by a PC.
About Michell Instruments
Michell Instruments Group is a worldwide leader in the field of moisture and humidity measurement solutions. With almost four decades experience, Michell designs and manufactures a wide range of sensors, instruments and customized systems capable of measuring dew-point, humidity and oxygen in applications and industries as diverse as compressed air, power generation, petrochemical, oil and gas, food processing and pharmaceutical. Michell's innovative products make processes cheaper, cleaner, more energy efficient and safe.
The Group has multiple manufacturing locations across Europe with their international headquarters located in Ely, UK and a North America sales and service headquarters located in Rowley (MA). It has its own facilities in 10 countries with an extensive network of factory trained application and service engineers, subsidiaries and distributors stretching across 56 countries.