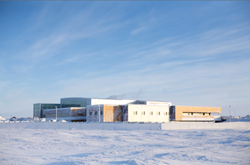 "Voalte is the perfect solution for our new hospital," said Andrew Bertapelle, Director of Nursing.
SARASOTA, Fla (PRWEB) October 29, 2013
Voalte, the leader in clinical communication, announced today that Samuel Simmonds Memorial Hospital in Barrow, Alaska, selected Voalte smartphones to improve care coordination and reduce noise throughout its new facility.
Each device will be equipped with the Voalte One application, which allows caregivers to make voice calls and send secure text messages over the hospital's Wi-Fi system. The phones also will integrate with the Rauland Responder 5 nurse call system, which will enable clinicians to receive alarms and alerts directly to their smartphones. Samuel Simmonds Memorial Hospital will incorporate Voalte smartphones in all units and areas of the hospital.
"Our main objectives are to improve workflow and minimize noise," said Andrew Bertapelle, Director of Nursing. "With Voalte in place, our caregivers will be able to achieve these goals while simultaneously increasing time by the bedside. It's a win for both our clinicians and our patients."
Samuel Simmonds Memorial Hospital, one of the oldest healthcare facilities in Alaska, serves as the primary hospital for the North Slope region. The new building, at four times the size of the old facility and employing double the staff, is the first hospital in the United States built under Title V, a federal construction program designed to give Tribal governments more control over health initiatives.
"As we transition into our new facility, it's critical that we implement a tool to streamline communication between our different departments," said Bertapelle. "Voalte is the perfect solution for our new hospital. It will drastically reduce breakdowns in communication and help improve our overall workflow."
Barrow is the northernmost city in the United States and the first hospital in Alaska to adopt Voalte smartphones as its communication alternative.
"It's amazing to see the impact of mobile technology in healthcare," said Trey Lauderdale, Founder and President of Voalte. "Five years ago we started as a four-person company in Sarasota, Florida, and now we're expanding to the northernmost city in the United States. We're thrilled to be a part of the mobile health revolution."
About Voalte
Voalte is the only company to provide a fully integrated and dependable clinical communication system that healthcare professionals want, enjoy and effectively use. Voalte products are designed to be intuitive, high-value, mission-critical applications running on the latest generation of touch-based smartphones. For more information, visit http://www.Voalte.com or call 941.312.2830.