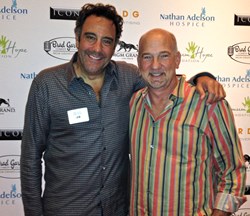 It's an honor to support Brad's effort every year so more and more children and their families can be helped.
Los Angeles, CA (PRWEB) October 24, 2013
Emmy-award winning Hollywood director and producer Rob Schiller is best known for his talents directing and producing more than 250 episodes of sitcoms. In between directing assignments, he demonstrates his commitment to organizations that help children and families. This month, Schiller joined Maximum Hope Foundation founder, three-time Emmy award-winning actor and stand-up comedian Brad Garrett, along with actor, writer, and comedian Ray Romano, at the annual "All in for All Good" celebrity poker tournament in Las Vegas.
The popular annual event held at the MGM Grand includes lunch generously donated by Wolfgang Puck, auction items and fun for celebrities and poker pros. The tournament benefits Maximum Hope Foundation, a non-profit organization that offers compassionate, practical assistance to families caring for a child with life-limiting illness.
"Understanding the difficulties that families face when they must cope with a child's grave illness, Maximum Hope provides struggling families with everyday essentials like housing, utilities and groceries, so they can focus on their most important priority - their child," said Schiller. "It's an honor to support Brad's effort every year so more and more families can be helped."
Maximum Hope Foundation provides assistance to families facing hard times caring for a sick child. Medical bills and treatment leave some families unable to afford the necessities such as food, power, gas, and rent, which is where Maximum Hope steps in to ensure the overall wellness and health of families. Founded by Brad Garrett in the year 2000, the Foundation is named after his children Max and Hope.
About Rob Schiller
Rob Schiller, Emmy-award winning American film and television director, producer is also president of R&B JAAMZS, Inc. Schiller has directed and produced over 250 episodes of sitcoms, including the new Nick at Nite family comedy "Wendell & Vinnie," the CBS hit comedy, "The King of Queens," "Two and a Half Men," and "Til Death." His recent shows include Melissa & Joey on ABC Family, Sullivan & Son on TBS, The Exes on TVLand and a brand new show on CBS, Friends with Better Lives. Schiller's latest motion picture, "And They're Off," starring Sean Astin and Kevin Nealon, follows a failed horse trainer who desperately wants to be back in the winner's circle.
With a family heritage of philanthropy, Schiller continues to support causes for health and human services, arts and entertainment, local and national political fundraising, and public education. For more information, visit http://www.robschiller.com.