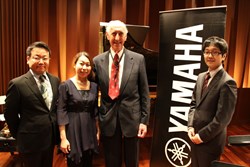 'Eugene Rousseau personifies the word 'Artist' not only in the way he performs and teaches, but in the way he lives... Happy Anniversary, Gene!' - John Wittmann, Director, Artist Relations, Yamaha Artist Service
Indianapolis, IN (PRWEB) October 24, 2013
Eugene Rousseau's relationship with Yamaha began more than forty years ago. As an integral part of the Yamaha family, Rousseau remains a legend on the artist roster and in the music community.
Rousseau has held, and continues to experience, a successful and robust career. Having performed on five continents, his credits include the BBC Orchestra (London), Minnesota Orchestra, Indianapolis Orchestra, Janácek Philharmonic (Czech Republic), Prague Symphony, among others. Many performances have included premiers of works written specifically for him.
As an educator and pioneer who forged the path for solo saxophone performance and instruction across the world, Rousseau co-founded the World Saxophone Congress in 1969. Rousseau served on the faculty at Indiana University's School of Music, now Jacobs School of Music, from 1964-2000, and holds the title of Distinguished Professor of Music. He was also designated an honorary faculty member of the Prague Conservatory in 1993. In 2000, he joined the faculty at the University of Minnesota School of Music, where he currently holds the title of Senior Lecturer.
Joining the Yamaha Band and Orchestral Artist Roster in 1972, Rousseau has been a chief consultant for saxophone research, contributing to the development of acoustic improvements in saxophones. A testament to his excellence in teaching, he has inspired many of his students to join the Yamaha family, as well.
Rousseau commemorated his forty-year anniversary with Yamaha with a special trip to Japan in December 2012. The visit marked his 70th visit to Japan since joining the Yamaha family. Public and private appearances, including a concert at Yamaha's Ginza Salon in Tokyo, and events with sales and factory staff made this trip very special, to honor a man who is clearly one of the top saxophone educators in the world.
John Wittmann, Director, Artist Relations, Yamaha Artist Services says, "Eugene Rousseau personifies the word "Artist" not only in the way he performs and teaches, but in the way he lives. He is truly a gentleman and scholar, and an artist with whom we are honored to be associated. Happy Anniversary, Gene!"
For more information, write Yamaha Artist Services Indianapolis, 39 West Jackson Place, Suite 150, Indianapolis, IN 46255, telephone (317) 524-6251, email jgascho(at)yamaha(dot)com or visit http://4wrd.it/yamahaartists.
About Yamaha
Yamaha Corporation of America (YCA) is one of the largest subsidiaries of Yamaha Corporation, Japan and offers a full line of award-winning musical instruments and sound reinforcement products to the U.S. market. Products include: Yamaha acoustic, digital and hybrid pianos, portable keyboards, guitars, acoustic and electronic drums, band and orchestral instruments, marching percussion products, synthesizers, professional digital and analog audio equipment, Steinberg recording products and Nexo commercial audio products. YCA markets innovative, finely crafted technology products and musical instruments targeted to the hobbyist, education, worship, professional music and installation markets.
Release Date: For Immediate Release
Contact: John Wittmann/Yamaha Corporation of America
(317) 524-6271/jwittmann(at)yamaha(dot)com
Marc Ferris/Giles Communications
(914) 798-7121/mferris(at)giles(dot)com