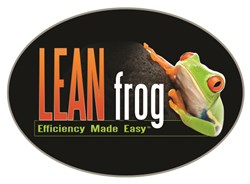 Madison, Alabama (PRWEB) October 25, 2013
LEAN Frog Business Solutions, Inc. was honored with two prestigious awards at the Annual Small Business Awards Ceremony hosted by the Madison Chamber of Commerce. LEAN Frog won the 2013 Small Business of the Year Award and Byron Headrick, Founder and President, won the "Excellence in Leadership & Service" Award.
"We strive to be good stewards of each other, our customers, and our community – and what a community it is - The Madison business community represents innovative companies that demonstrate unparalleled community service. It is an honor and a privilege to be recognized among our peers with these notable awards," said Byron Headrick, Founder and President. "On behalf of the LEAN Frog team and myself, I want to humbly thank the Madison City Chamber and members for this recognition."
As stated by Leigh Thigpen, Events, Marketing, and Communications Coordinator for the Madison Chamber of Commerce: "Since inception, the Madison Chamber of Commerce has saluted excellence in business. We have especially recognized gutsy local entrepreneurs who started from scratch to create successful businesses that shape our economy."
A team of independent judges scored the entrees without knowing the names of the nominated companies or the individuals. The independent scores were combined to select the top three finalists. A winner was then chosen from that auspicious group. The ceremony took place at the Jackson Center located in Huntsville, Alabama on October 17th at 7:00PM.
About LEAN Frog Business Solutions, Inc.
LEAN Frog began in 2009, during a recession, when Byron Headrick willingly left his position at a local Fortune 200 company to build a unique LEAN Six Sigma Consulting Business. At first, the business was primarily Byron working as an independent contractor for local manufacturing companies. With great deliberation, Byron made the decision to cancel those contracts and build a multi-consultant firm applying LEAN techniques across a variety of business types.
As need and opportunity arose, LEAN Frog refocused its business and now works primarily in the Education field, helping public school systems improve the efficiency and effectiveness of their non-instructional operations. The majority of LEAN Frog's work to date has been conducted in over 15 of Alabama's school districts (over 10%). This work has resulted in identifying over $84 million in savings opportunities among all client school systems and achieving over $17 million in savings over the last 24 months. In late 2013, LEAN Frog expanded operations outside the state of Alabama by being accepted as a Business Partner to the Tennessee School Board Association and the Tennessee Association of School Business Officers.