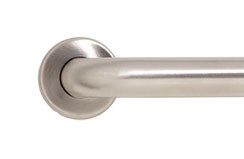 Grab bars can be installed into residential homes or commercial locations.
New York, NY (PRWEB) October 24, 2013
A popular hydrotherapy walk in bathtub company, Aging Safely Baths, announces they will now be offering customers domestic and imported safety grab bars with a satin finish. Clients that prefer polished chrome or a peened finish can also enjoy a large selection of different options offered by the company.
Accidental falls in the home occur somewhat frequently, and unfortunately the disabled and the elderly can experience mobility obstacles that many people do not have to be concerned with. Having extra support and something to grab onto when entering a bathtub or shower can be a good thing. In addition, adding them to stairs or any other difficult to maneuver area may potentially be beneficial. Implementation can be different for everyone depending upon the severity of their mobility restrictions and specific needs.
Customers will also appreciate the wide selection of designer grab bars. Customers can select from numerous designs that can turn safety into something beautiful. Several of the options may match perfectly with many different décor styles and tastes. Furthermore, some of the walk in bathtubs offered by Aging Safely also have grab bars pre-installed. This is a potential benefit to the customer, versus installing them to the bathtub shell on premises, whereas there is potentially a higher likelihood that the unit could be damaged or compromised.
Many seniors might be asking where someone should go to buy a handicapped shower or hydrotherapy walk in tub. Aging Safely is a tremendous resource for the elderly, homeowners, caretakers and commercial facilities. Clients can receive several of the highest quality bathing products at the lowest prices nationally. Many of the brands are typically marked several hundred dollars, to several thousand dollars below big box retailers and other national brands.
Being able to enter the bathing appliance is one of the more important things to consider. Front entry bathtubs and wheelchair accessible roll in showers can have step in heights that vary from 7" down to .5". Bathers with limited use of their legs should consider a low threshold shower system with a built in padded seat. It's important to understand, the larger ADA compliant shower can typically be installed into residential or commercial locations. In some instances clients may prefer or require a smaller 48" x 34" step in shower. Wheelchair ramps can also be purchased as an accessory if required.
There are numerous sizes, colors and configurations available. Clients can customize step in heights and other important options such as hydrotherapy, chromatherapy, aromatherapy and temperature control devices. For a no obligation consultation, please visit http://www.agingsafelybaths.com or contact a representative toll free at 1-888-779-BATH(2284)
Furthermore, the company also specializes in several custom seat cushion risers, bath pillows and neck rests that can work with handicap showers and bathtubs with seats. They are universal with most step in tub brands and the edges can be customized to match the radius of the existing seat. The seat risers can also be customized for depth, width and height. Standard goes from 3.5" compressed down to 2.5" and the taller version goes from 8.5" to 6.5" when compressed. This can potentially give bathers less distance to stand when getting up out of the bathing appliance.
Contact Information:
Zach Wennstedt
info(at)Agingsafelybaths(dot)com