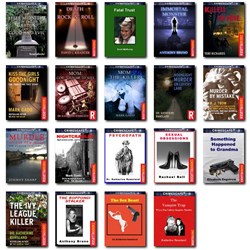 'The two latest titles of the Crimescape series continue its legacy of fascinating narration of the most provocative crimes that have been reported.' - Marilyn Bardsley, editor of the Crimescape series
New York, NY (PRWEB) October 24, 2013
RosettaBooks' Crimescape series introduces two new titles as the entire series moves exclusively to Kindle. The Sex Beast by Dr. Katherine Ramsland and Fatal Trust by Kevin F. McMurray are true crime short eBooks sure to fascinate readers with frightening detail, complete with photographs.
"RosettaBooks is happy to partner with Kindle once again to bring readers the entire gripping Crimescape series," said Arthur Klebanoff, CEO of RosettaBooks.
In The Sex Beast, Dr. Ramsland, bestselling author of Psychopath and professor of forensic psychology and criminal justice at Pennsylvania's DeSales University, uses her insight and expertise to paint a revealing portrait of a very unusual serial killer.
A man and his baby girl are murdered, but his wife and young daughter are missing for two years. They were the real prize for this shocking serial killer, who then subjected them to outrageous sexual violation before beating them to death.
McMurray, an investigative reporter and author of six other nonfiction books, details the twists and turns of the unexpected disappearance of a 12-year-old girl in Fatal Trust. Some suspect the sociable girl simply ran away, while others cannot believe the simple explanation.
"The two latest titles of the Crimescape series continue its legacy of fascinating narration of the most provocative crimes that have been reported," said Marilyn Bardsley, editor of the Crimescape series.
The Sex Beast and Fatal Trust are the latest true-crime titles in the 19 eBook series. Prices range from $2.99 to $3.99 on Kindle.
About Crimescape: A collection of compelling short nonfiction crime eBooks from leading independent eBook publisher RosettaBooks, Crimescape® provides riveting storytelling that puts its publications at the top of the true crime genre. Crimescape authors are not only the best true crime authors in the business—many of whom have seen their books made into major motion pictures. They're also police detectives, forensic professionals, criminal psychologists, and investigative reporters. Their inside expertise brings readers unique insight into the murderous mind—and some of the world's most mysterious cases.
About RosettaBooks: RosettaBooks is the leading independent digital publisher. Its prominent author collections include 52 works of Winston Churchill, 35 titles by renowned science fiction author Arthur C. Clarke, 20 works by Kurt Vonnegut, 12 titles from international bestselling business author Stephen R. Covey and 18 works by Robert Graves, celebrated 20th century English poet, critic, and author of I, Claudius and Claudius, the God. RosettaBooks also publishes eBook lines in collaboration with AARP, Harvard Health Publications and Mayo Clinic. Publisher of ten Kindle Singles, including Ray Bradbury's The Playground, RosettaBooks has launched nine of them to bestseller status. RosettaBooks is an Inc. 500 company, on the exclusive list of the fastest growing private companies in the United States. For more information, please visit RosettaBooks.com and follow the e-publisher on Facebook.
Press Contact: Navjot Khalsa I Digital Marketing Manager I nkhalsa(at)rosettabooks(dot)com