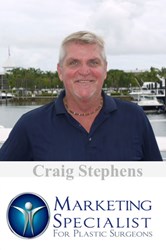 You are a Plastic Surgeon. Let me help you promote your name as a local expert in Plastic Surgery in all the media channels. I'm Craig Stephens, a Plastic Surgeon Marketing Specialist.
Key Largo, Florida (PRWEB) October 25, 2013
Marketing Specialists for Plastic Surgeons has released additional information regarding its distinct marketing approach, one in which a doctor's online reputation, notably feedback and reviews, plays the most important role. Only after a strong online reputation is cultivated will the agency begin targeting standard front-page strategies on search engines such as Google, Bing and Yahoo.
This marketing approach, while not entirely new, is often set aside for the more common forms of search engine marketing, or SEM. Top-listing slots on Google and other search engines are hotly contested, and millions of dollars are spent annually to get first page results on popular keywords. For Craig Stephens however, that strategy could actually be harming practices, not helping them.
"Behind a lot of what I do is a marketing technique called Blue Ocean Strategy," said Craig Stephens, CEO of Marketing Specialists for Plastic Surgeons. "If you're a surgeon, you're fighting for the same small market space—the 'red ocean' of bloody competition—using the same techniques that other practices are using. This includes targeting Google's front page. What I do is promote strategies that bring your practice into a 'Blue Ocean' where it can grow without being stifled by lots of other practices."
In order to achieve this, Stephens focuses primarily on constructing a unique brand for each surgeon. That brand encompasses not only a doctor's service offering, but his personality and values as well. Stephens uses a wide assortment of tools to help practices elicit feedback from previous patients, and those feedback and reviews form the core of his marketing approach.
"Feedback is essential to what I do as a marketer. And I don't mean just standard reviews on Google Places and Angie's List, although that's part of it. Video reviews posted on a doctor's website as well as YouTube can be hugely beneficial if done properly and can have immediate and long-lasting effects for a practice."
About Marketing Specialists for Plastic Surgeons:
Florida-based Marketing Specialists for Plastic Surgeons is a company directly involved in developing marketing techniques for both the cosmetic and plastic surgery industries. The company is owned and operated by Craig Stephens.
You can reach Craig Stephens at craig(dot)stephens(at)marketingspecialistforplasticsurgeons(dot)com or by phone at 305-879-5631.