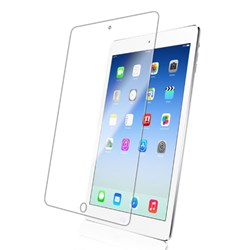 Pomona, CA (PRWEB) October 24, 2013
The holiday season is upon us and so is the wave of new flagship smartphones and tablets that get released at the end of every year. Skinomi is no stranger to the pressure that comes when trying to be the first company to have a screen protector and full body skin design complete are ready for retail. Apple recently announced their latest version of the all-popular iPad. This year's (2013) model will be called the Apple iPad Air and Skinomi is already hard at work on the screen protector and full body design.
Skinomi will feature 8 different protectors for Apple's latest tablet. The first will be the Apple iPad Air screen protector that covers the entire front (screen) of the Apple iPad Air; unlike many screen protectors that only cover the actual display and leave the bezel uncovered. James Cooper, COO of Skinomi explained some of the thought process involved when designing their protectors. He said, "When we design a screen protector, we make sure to completely cover the entire screen including the bezel. Consumers buy screen protectors to "protect" their device so wouldn't it make sense to have the entire screen covered? Bezel or no Bezel, if it is part of the screen we will make sure to design a protector that will keep it protected."
The other 7 different designs will all be Apple iPad Air Full Body protectors. They will come in a range of styles which are Black Carbon Fiber, Silver Carbon Fiber, Dark Wood, Light Wood, Brushed Steel and Brushed Aluminum. Each full body design will feature a screen protector and a full body skin that will provide full protection to the body of the iPad Air. "We are proud of the Full Body Skin protector selection that our customers have at their disposal. When it comes to choice and options I don't think that there is anyone out there that can match our selection." When asked which design was his favorite he responded, "All of them! But at the moment I really love the way that the Silver Carbon Fiber skin looks and feels on my LG G2."
The Apple iPad Air screen protectors are available for purchase and orders for the screen protector have begun shipping. Skinomi Skin protectors for the Apple iPad Air will begin shipping on November 1st when the device itself is released. Preorders ship in the order that they are received. If you are interested in preordering a skin protector be sure to do it soon to ensure that you receive it sooner rather than later.
About Skinomi, LLC
Founded by gadget aficionados in order to come up with better ways to keep gadgets protected, Skinomi has quickly become a "name brand" in the world of cell phone accessories with their quality protectors and unique skin designs.
Customerservice(at)skinomi(dot)com
(888)225-0471