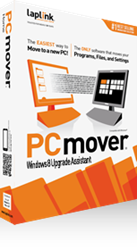 PCmover is absolutely the best migration solution available. With compatibility for Windows 8.1, there's no reason for users to worry about upgrading their PCs.
Bellevue, Washington (PRWEB) October 23, 2013
Laplink Software, Inc announced today that its newest version of PCmover passed its certifications and is fully compatible with Windows 8.1.
For several years, PCmover has been the number one, best-selling application for PC-to-PC migration. Now, PCmover holds a 95% share per migration in the US retail market.
"PCmover remains the leader in migration," announced Laplink's CEO, Thomas Koll. "It delivers more functionality and more value than competing solutions. It supports any transfer scenario, whether users want to upgrade their current PC to Windows 8.1, or whether they want to upgrade to a new PC entirely. PCmover will even allow users to migrate to a new PC using an image or old hard drive in place of the source PC."
While Microsoft only provides support for a few limited scenarios and has no solution for transferring applications to a new PC, Laplink's PCmover fits any user's needs. PCmover is the only software that moves applications installed and ready to use to a new PC in addition to user files, settings, and programs.
"PC users generally dread the task of upgrading because of the long wait times, hours of manually transferring files, the need to find old registration keys, or the costs associated with technical assistance," explained Koll. "PCmover eliminates all this hassle. We even provide our Free Transfer Assistance twenty-four hours a day, seven days a week at no additional cost."
PCmover delivers the following benefits over competitors:
Free Transfer Assistance: Certified PC migration experts make migration even simpler with remote assistance any time of day, any day of the week.
Faster: A streamlined interface and improved transfer speeds allows users to stop wasting days on PC setup. The easy step-by-step wizard gets the migration process started in no time at all.
Better: Application migration, complete selectivity, image or hard drive restore independent of operating system, and updated error checking further improve the best migration software on the market.
More Affordable: Laplink is offering special, limited time pricing on PCmover for the release of Windows 8.1. Now, users can purchase PCmover Windows 8 Upgrade Assistant for $19.95 until October 30, 2013. The price is normally $29.95.
"PCmover is absolutely the best migration solution available," stated Koll. "With compatibility for Windows 8.1, there's no reason for users to worry about upgrading their PCs."
Prices & Availability
PCmover Windows 8 Upgrade Assistant is available now and priced for a limited-time at $19.95 (special limited time pricing until Oct. 30, 2013). The price is normally $29.95 MSRP.
PCmover is available in multiple editions and can be purchased at http://www.laplink.com or Amazon, Best Buy, Fry's, Office Depot, Office Max, Staples, and other major software retailers in North America, Europe, and Japan. For more information about which version of PCmover is right for your transition, visit Laplink online.
About Laplink Software, Inc.
For over 30 years, Laplink has been the leader in providing software used for PC migration, remote access, file transfer, and synchronization. The privately-held company was founded in 1983 and is headquartered in Bellevue, Washington.