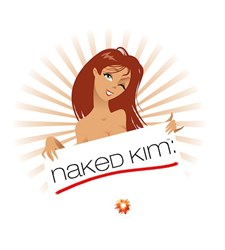 Karen Cohen, an eight-time Emmy award-winning producer said, "Kim Castle is erudite, intelligent and a magnetic personality who mixes just the right amount of humor with elegant presence to captivate the audience."
Los Angeles, CA (PRWEB) October 25, 2013
The star of the direct video YouTube show KimTV™, Kim Castle, is launching a video subscription to "The Making of a Lifestyle Brand Using YouTube" online reality series starting today called "naked kim." In the coming months, she will be sharing an unedited and uncensored insider view of what it takes to create and build a brand using YouTube as the platform. Kim will be guided by a team of experts as she grows her new brand from the ground up and "naked kim" subscribers will be able to follow along and learn with her every step of the way.
In this online reality TV series, subscribers will watch her as she learns how to format a show, edit, collaborate, deal with setbacks, enlist people to grow her team, generate raving fans and learns how to deal with haters, balance her show and her life and keep her emotions in check on and off camera. Watching this process as it unfolds can be critical to shortening the entrepreneurial learning curve for her subscribers. As Kim learns from a talented and experienced team of experts who are leaders in their respective fields including YouTube show creation, public relations, legal advisors, performance optimization, social media and more, so do her subscribers. Entrepreneurs or small business owners can learn more about "naked kim" at http://www.nakedkim.com.
Kim Castle, star of the kimTV™ YouTube channel and co-creator of "naked kim," has more than 20 years of brand development experience working alongside Fortune 500 companies such as Disney, General Motors and Wolfgang Puck, as well as mentoring small business owners around the world to grow from concept to millions in revenue. She's been known as a brand expert, entrepreneur, mentor, speaker, creative director, stand-up comedienne, TV host, actress, author, columnist, jewelry designer, fitness instructor, athlete, wife and mom. kimTV™ can be viewed online at http://www.youtube.com/kimcastle.
Karen Cohen, an eight-time Emmy award winning producer said, "Kim Castle is erudite, intelligent and a magnetic personality who engages audiences and gives spot on advice. She mixes just the right amount of humor with elegant presence to captivate audiences."
Kim Castle has been featured in dozens of books and media outlets including CNN Headline News, Fox Business News, Yahoo Small Business, Small Business Advocate Radio and Inc. Magazine. Her work has also won a Webby Award for General Motors.
Patty DeDominic, founder of International Women's Festivals and past Chairman of the National Association of Women Business Owners said, "Rarely do we get to meet such skill and grace in one person. Kim is a pro in media and television. She is dynamic, funny, beautiful, smart, collaborative, humble, powerful and generous. She inspired our audience to take action!"
About Intention Products, LLC
Intention Products, LLC distributes proven processes, tools and services for entrepreneurs and small business owners worldwide. Its most widely known product-line is BrandU®, http://www.brandu.com. Please contact Executive Producer, W. Vito Montone, to schedule an interview or personal appearance with Kim Castle or to learn more about the "naked kim."