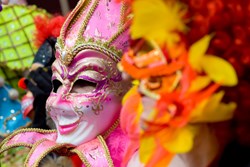 Guilford, CT (PRWEB) October 24, 2013
American Cruise Lines (http://www.americancruiselines.com), the largest U.S. cruise company, announced today the introduction of a specially-themed Mardi Gras cruise. Offered on March 1, 2014, during the week of Mardi Gras, the new theme cruise will kick-off the line's third season on the Mississippi River in New Orleans, with a complimentary pre-cruise package, specially-planned festivities, and an exclusive dinner for guests at Antoine's, one of New Orleans' finest and most historic dining establishments. Offered as a roundtrip out of New Orleans, the Mardi Gras Celebration cruise features:
-Complimentary Pre-cruise Package: Guests can join the party early with a complimentary two-night stay in New Orleans aboard the Queen of the Mississippi, prior to their cruise.
-Mardi Gras Celebration: American Cruise Lines offers guests an opportunity to celebrate the city's most quintessential holiday without the crowds, on the beautiful Queen of the Mississippi. Guests will enjoy specialty foods such as King Cake, festive activities including mask making, and a Fat Tuesday celebration onboard the ship.
-Dinner at Antoine's: Joined by American Cruise Lines president Charles A. Robertson, guests are treated to an exclusive evening of dinner and drinks at Antoine's Restaurant, one of New Orleans' finest and most legendary restaurants. The oldest family-run restaurant in the United States, Antoine's is a historic landmark, having kept its doors open through some of the nation's most difficult times, including the Prohibition era, the Great Depression and both World Wars. Known for its French-Creole cuisine, impeccable service, and world-famous clientele, including Franklin D. Roosevelt, Calvin Coolidge, numerous movie stars, foreign royals and even a former pope, Antoine's will offer American Cruise Lines' guests the premier New Orleans dining experience.
-Exclusive Tours: American Cruise Lines has arranged for a number of exclusive tours available only for its guests, including a behind-the-scenes guided tour of Mardi Gras World and a float building demonstration.
The Mardi Gras cruise provides guests with the best value on the Mississippi River, offering an eight- or nine-night cruise at the price of seven nights. This new cruise offers a unique and authentic way to experience New Orleans and its most well-known holiday, along with the many other fascinating cities found along the Lower Mississippi River.
About American Cruise Lines
American Cruise Lines, the largest U.S. cruise company, operates the newest fleet of riverboats and small cruise ships on more than 35 itineraries around the country. Long established and deeply experienced in cruise travel, American Cruise Lines has most recently received world-wide recognition as the first to revive paddlewheel river cruising in America. The line is known for working closely with guests before, during, and after a cruise to create a highly personalized cruise experience. To learn more about American Cruise Lines, visit http://www.americancruiselines.com or call 800-814-6880. Find us on Facebook at facebook.com/americancruiselines or follow us on Twitter at twitter.com/american_cruise.