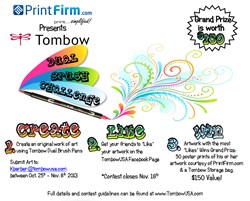 Drawing is something that anyone can learn and enjoy. We're really excited to introduce new and experienced artists to techniques through our Dual Brushes Pens, especially during Inktober. - Marie Browning, Signature Designer for Tombow
Los Angeles, CA (PRWEB) October 25, 2013
Analog artists are vying for the opportunity to turn their hand drawn masterpieces into stunning digital art in the Dual Brush Challenge co-sponsored by PrintFirm.com and Tombow USA. The simple 2 step entry process starts with submitting an original work of art created using Tombow's colorful Dual Brush Pen Set to Social Media Specialist Kasey Barber from Oct. 25th to November 8th, 2013. Qualifying entries will be published on the TombowUSA Facebook page on November 11th. Participants will have until November 18th to earn the highest number of likes from users, including personal friends and family. The fan with the most likes by 12pm EST on November 18th wins 50 custom 12" x 18" poster prints from PrintFirm along with a high quality Tombow storage bag.
Marie Browning, Signature Designer for Tombow, believes the Duel Brush challenge presents new educational opportunities: "Drawing is something that anyone can learn and enjoy. We're really excited to introduce new and experienced artists to techniques through our Dual Brushes Pens, especially during Inktober."
Artists adopted the month of October as Inktober to show appreciation for drawing in ink. Purists eliminate all color in favor of plain black pens whereas others are satisfied so long as their sketches only involve ink and paper. Many use Inktober as an opportunity to push their talents and issue personal challenges, such as making at least one sketch every day for 31 days. Artists also share their collective crafts on popular social media sites using the hashtag #inktober. The hashtag isn't a requirement for the Dual Brush Challenge, but both companies encourage competitors to spread their submissions with the #inktober phrase to help promote fine arts on the web.
PrintFirm online marketing director Katherine Tattersfield hopes her company's contribution will inspire artists to explore the possibilities of professional poster printing: "Traditional artists tend to think of commercial printing as something for graphic designers and businesses, but that's a total misconception. You can scan any hand drawing, upload it to a computer, convert it to vectors in Illustrator, and make your own incredible posters in any size!"
Tattersfield notes that some artists may not be familiar with the technical specs required for successful print projects. The PrintFirm team cautions entrants to get familiar with the basics to avoid disappoint with the finished prizes. "Please make sure your graphics are big enough to fit on the poster without distortion, and only use high resolution images in CMYK color mode!," Tattersfield warns. Artists may download print ready poster templates in the appropriate size on the PrintFirm site at no extra cost. The blank templates come in several file formats and decrease the likelihood of common printing errors.
About PrintFirm
PrintFirm, INC, trusted leaders in online printing, mailing, and design since 1996.
About Tombow USA
Tombow is today's market leader for arts, crafts and office products. Serving consumers and businesses around the globe, Tombow was established in Japan in 1913 and has grown the company's portfolio to a worldwide provider of adhesive tape, ballpoint pens, correction tape, drawing pencils, dual brush pens, glue sticks and liquid glues. Whatever your project, from preparing documents to scrap booking to fine art projects, you can count on Tombow for unmatched quality and design.For more information, visit http://www.tombowusa.com.