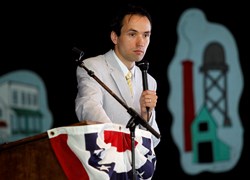 "Robert Sarvis offers an alternative, an agenda grounded in free markets and social tolerance>"
Falls Church, VA (PRWEB) October 24, 2013
The Purple PAC, a 527 independent expenditure organization commonly referred to as a "Super PAC," announced today that it was launching a significant ad buy promoting the campaign of Libertarian candidate Robert Sarvis for governor of Virginia. The ad will run from Thursday, October 24th, through the end of the election in media outlets across the state.
"Both the Republican and Democratic candidates are right about each other," said Ed Crane, President of the Purple PAC. "Ken Cuccinelli is a socially intolerant, hard-right conservative with little respect for civil liberties. Terry McAuliffe is a big government liberal with little respect for economic liberties. Both have been engulfed in scandal. Fortunately, Robert Sarvis offers an alternative, an agenda grounded in free markets and social tolerance."
He added that Virginia voters need to send a message to both political parties. "Pollster John Zogby has found that 59 percent of voters surveyed answered 'yes' to the question 'Would you define yourself as fiscally conservative and socially liberal?'" said Crane. "It's time that the two major parties made room for those voters - a majority of the electorate - or risk losing them altogether."
The Purple PAC was launched in 2013 to promote "purple" candidates - "red" when it comes to economic policy, "blue" when it comes to social policy - in both political parties throughout the nation. While the PAC says it does not expect to support Libertarian Party candidates as a rule, the Virginia race is an exception. Ed Crane says, "Robert Sarvis is running surprisingly well in Virginia despite having little money and no exposure in the gubernatorial debates. A strong showing by Sarvis will tell the political class that purple voters cannot be ignored or taken for granted lest campaigns be put at risk. And there's no better set of campaigns to put at risk than the desultory campaigns of Ken Cuccinelli and Terry McAuliffe."
You can watch the spot here: https://vimeo.com/77629652