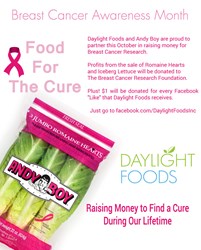 This is only our second year participating with Andy Boy and The Breast Cancer Research Foundation, but we have had wonderful feedback and results from our customers
Milpitas, CA (PRWEB) October 23, 2013
With "Food for the Cure", Daylight Foods is donating 100% of the profits from the sale of Andy Boy Romaine Hearts and Iceberg Lettuce to The Breast Cancer Research Foundation (BCRF). This means for every case sold, up to 26% of the sale will go directly to helping decrease the number of lives affected by breast cancer. This is the second year Daylight Foods has partnered with Andy Boy for this cause.
Andy Boy is the well-known customer favorite brand from D'Arrigo Bros, produce distributors and growers famous for their romaine hearts, broccoli, broccoli rabe, cactus pears and more. Bright pink packaging and a pink ribbon adorn their products in grocery stores signaling their commitment and involvement in raising awareness and money for breast cancer research. Since 1999 they have raised over $1.2 million for the BCRF.
Daylight Foods is inspired by Andy Boy's dedication and success for this cause. They share Andy Boy's goal of "achieving a cure during our lifetime." Being produce suppliers, they believe it is very important to educate and publicize the benefits of healthy living and how important it is in reducing the chances of developing breast cancer.
In addition to the profits from lettuce being donated to the BCRF, Daylight Foods will donate $1 for every Facebook "Like" they receive this month. If you take a look at their Facebook page, you will see important information on how to reduce your risks and information about myths of the of breast cancer. As well, Daylight Foods' drivers and the sales team have been wearing special breast cancer awareness shirts to increase awareness and promote this month's goals.
"This is only our second year participating with Andy Boy and The Breast Cancer Research Foundation, but we have had wonderful feedback and results from our customers both last year and this year," explained Daylight Foods Director of Marketing, Stephanie Macedo, "We are excited to see how much is raised by the end of the month and are so thankful to have wonderful partners like Andy Boy to be able to work with and make this fundraiser possible."
About Daylight Foods
Daylight Foods is a food distribution company headquartered in the Bay Area. They purchase direct from the most reputable growers and shippers in the industry. Their direct purchasing and high quality standards enable them to continually pass on value to their customers' operations; supplying fresher, higher yielding product. Daylight Foods takes a special interest in local growers and family farms, as well as in "green" technology, to support their local communities and sustainability for future generations.