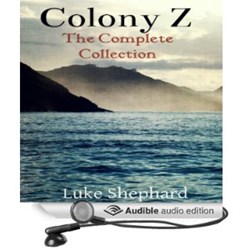 A thriller with twists and turns at every corner!
(PRWEB) October 29, 2013
SciFi Publishing is pleased to announce the release of its newest scifi audiobook, "Colony Z: The Complete Collection" "Colony Z" is, written by author Luke Shephard, is now available for sale on Amazon, Audible and Itunes. http://amzn.to/H7A9S4
About Colony Z
The Island: Vol. 1
When the Undead have taken over America, one group of survivors find safety by escaping to a remote, unsettled island. There they work to rebuild society, while trying to survive whatever it is that is after them. Alone and isolated, their relative peace and safety is shattered when a group of Others shows up on their island and their leaders must make life-altering choices in the blink of an eye. This is only the beginning. This is their story.
The Albion Tribe: Vol. 2
The Albion Tribe. A ragtag group of survivors. Traveling from camp to camp, trying to find somewhere safe to stay. All the while, battling whatever type of creatures are still out there. Danger lurks behind every tree and every building. Keeping everyone alive is not always a guarantee.
First Days: Vol. 3
Before they became the Albion Tribe, they were just normal people. Sons and daughters, Moms and Dads, families, young and old. Living their lives, blissfully unaware of the shocking events that would soon shake them all. But now the threat is here. Follow each of them as they struggle to adapt to this new world, and all of the dangers that lurk around every corner.
Beginning and End: Vol. 4
Back to the very beginning. Before the Albion Tribe. Before the Zero Hour. Back when everything in the world was right. Until there was an incident. One little thing that changes the course of human history. One thing that may lead to The End. Find out what started it all, and how the remaining survivors will try to move forward to a better life, in the breathtaking final chapter of Colony Z!
What People are Saying
5.0 out of 5 stars "Perfect blend of zombie gore, mystery, thriller and even a bit of romance."
5.0 out of 5 stars "Solid story, solid characters, just the right amount of twist and mystery!"
5.0 out of 5 stars "I love how the author is so descriptive about the story and the plot has so much tension!"
5.0 out of 5 stars "This was a good, slow-building, tension filled story."
5.0 out of 5 stars "Exciting story with lots of action!"
5.0 out of 5 stars "Lots of twists and turns not seen coming."
If you like great Zombie thrillers like "World War Z" you will enjoy "Colony Z"!
Volume 1 is currently, ranked #9 in Kindle Store > Kindle eBooks > Science Fiction & Fantasy > Science Fiction > Post-Apocalyptic
About the Author
Luke Shephard was born and raised in Oregon, where he can still be found dreaming up stories or getting lost in local parks and reservoirs. In addition to writing, the author has also spent time as a teacher in such places as Spain, Germany, and South Korea. He now lives with his wife, a son, and a Great Dane that loves peanut butter.
About Sci-Fi Publishing
Sci-Fi Publishing enables authors to bring their work to life, creating powerful audiobooks for Sci-Fi fans. We partner with authors from audiobook production to marketing so they can continue to focus on their passion, creating new and amazing worlds.
For more information about us and to discover other great scifi audiobooks, visit us at either http://www.scifi-publishing.com or http://www.scifi-audiobooks.com.