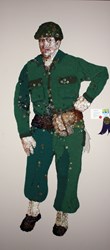 Tubac, Arizona (PRWEB) October 25, 2013
"Threads" opened to rave reviews at Tubac Center of the Arts. "This is a show I would expect to see in Los Angeles or New York," stated a visitor to the art center. The work comes from artists from twenty different states and is a sampling of the versatility and innovative use of fiber in contemporary art. Historically, fiber art has been viewed as "women's work," sewing, knitting, crocheting, quilting. Contemporary artists have moved beyond the gender specific perceptions with innovative approaches to using fiber materials in art. Juror, Kay Khan of Santa Fe, NM (http://www.kaykhanart.com) has selected art from entries across the country creating a diverse exhibit from wall hangings to sculpture to large scale installations. This is a must see exhibit.
About Tubac Center of the Arts: Tubac Center of the Arts is the core of Tubac's artistic heritage. TCA is a non profit member supported art center with rotating art exhibitions, art workshops and education programs for both adults and youth, a performing arts series, a gallery gift shop and a number of special events throughout the season. Tubac Center of the Arts is located at 9 Plaza Road, in the historic artist community of Tubac, AZ, about 40 miles south of Tucson and 17 miles north of Nogales off Interstate 19. Nestled in the Santa Cruz River Valley between the Tumacacori, Santa Rita and San Cayetano Mountains, Tubac offers much to its visitors - recreation, lodging, restaurants, galleries, artists' studios, the Tubac Presidio State Historic Park, and the Tumacacori National Historical Monument.
Hours: Monday - Saturday, 10:00am - 4:30pm, Sundays, 12:00 - 4:30pm, Admission: free
For more information on exhibitions, classes, programs and membership, please call 520-398-2371 or visit http://www.TubacArts.org.