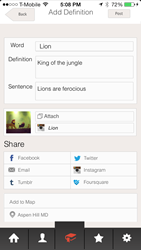 "...illustrates the social movement mentality..." Dr. Corinne Kirchner (Sociologist Professor at Columbia University)
Washington, DC (PRWEB) October 24, 2013
Leximo (http://www.leximo.org) has officially published the second version of its iPhone dictionary application to the Apple (AAPL) App store. The second release marks a historical step for dictionaries in the 21st century.
The new version of Leximo introduces social collaboration and visual concepts to mobile dictionaries for the first time ever. Although not new concepts, these concepts have only been partially utilized on web dictionary applications. Leximo leads the forefront of the dictionary revolution with its focus on being mobile, and being a dictionary built by the people, for the people.
Leximo has integrated Facebook (FB) like social features, as well as integrating Instagram as a form of uploading images with words. This adds more user generated content, truly giving people all over the world a voice in creating a unified World Dictionary.
Dr. Corinne Kirchner, a Sociologist Professor at Columbia University in New York published a journal paper stating that dictionaries of today struggle over control of meaning. She emphasizes a need to update old dictionary theory and concepts. Exploratory research reveals emerging types of user-involvement in online dictionaries with implications for (a) professional (lexicographic) vs. marketing power in the "reference information" industry, and (b) broader sociological trends contesting traditional expertise, and supporting social movement politics.
She specifically references that Leximo:
"...illustrates the social movement mentality..." Dr. Corinne Kirchner, Ph.D
This encompasses an overall trend observed by Academia which started with Wikipedia, a wiki driven encyclopedia that revolutionized the old model of the encyclopedia.
Leximo sets out to revolutionize the old model of dictionaries, by making it mobile, visual and placing the expertise of the world's lexicon in the power of the people.
Leximo's iPhone application can be downloaded here.
About Leximo
Leximo was founded by two engineering students, Ian Balina and Asad Mahmood at The George Washington University in Washington, DC. Their idea of a social dictionary quickly spread after performing well in local business pitch competitions in the DC metropolitan area. Their initial idea hit the front pages of Digg and Reddit, and grew them a large following on Twitter.
After graduating from grad school, and working with large companies like Deloitte Consulting LLP, and IBM, Ian Balina (CEO) has continued on with Leximo, and strives valiantly to manifest into reality, the principles set forth in the Leximo Manifesto.
Contact
Ian Balina
240-753-0315
http://www.leximo.org