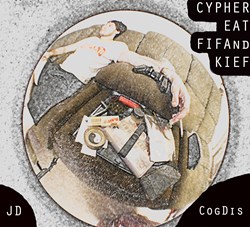 Baltimore, MD (PRWEB) October 23, 2013
Coast 2 Coast Mixtapes announce the release of the "Cypher Eat FIFAnd Kief" Mixtape by JD. The 14-track project is currently available for download. The mixtape features appearances from Intrinsic and Roy.
JD, born Juan David Arbelaez in Armenia Colombia, is a 21-year-old rapper raised in Baltimore, MD. First inspired by Eminem's "Mockingbird" which he had to listen to over the phone because his parents would not allow him to listen to Rap music in their house, JD would not let anyone hold him back from exploring Hip Hop, not even his parents. Once in high school JD found himself intrigued with more underground Hip Hop instead of what was being played on the radio such as artists like Immortal Technique, Mos Def, Talib Kweli, Atmosphere, Lupe Fiasco and Kid Cudi. This stream of Hip Hop provided a style and subject matter of which JD could relate.
After high school JD tried his hand at the University of Maryland but soon realized that he needed to pursue his passion for politics, philosophy, and music outside of the University's rules and regulations. Inspired by the Occupy Movement, JD and friends started the Rap collection named CognitiveDissidents to get their message heard. This collective provided him the outlet to collaborate in his own songwriting and recording ventures eventually setting up his own studio in his parent's basement to record, mix, and master his music.
Now rocking house parties and basement shows, JD is fine tuning his craft and producing his own projects. His first real project is "Cypher Eat FIFAnd Kief" which he has released through Coast 2 Coast Mixtapes. This mixtape, available on DatPiff, is the result of JD's exploration learning about himself, his culture, and his art; seeking to inspire others to be more aware of who they are, what they represent, and where they come from. Check out more information on JD on his Twitter page.
About Coast 2 Coast Mixtapes:
Coast 2 Coast Mixtapes are the most widely distributed mixtapes in the world, with over 100 million downloads/plays generated by over 200 volumes officially hosted by major artists. Coast 2 Coast has a solid reach in the new music industry with a digital magazine, DJ coalition, industry tips blog, yearly convention, and more. Coast 2 Coast Mixtapes represents a unique opportunity for artists of all urban genres, from major to indie. For more information, visit http://www.coast2coastmixtapes.com.