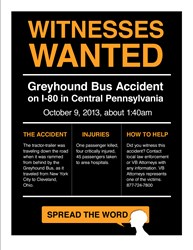 "We are asking witnesses to assist by providing details about this accident."
Houston, Texas (PRWEB) October 24, 2013
Shortly after a Greyhound bus accident along Interstate 80 in Pennsylvania, VB Attorneys has filed a lawsuit against the bus company. (1) Their client remains hospitalized at Geisinger Medical Center.
According to ABC News, the Greyhound accident took place in Union County, Pennsylvania at around 1:30 a.m. on Wednesday morning, October 9. Trooper Matthew Burrows reported that a tractor-trailer carrying garbage westbound on I-80 was struck from behind by the bus, which was traveling from New York City to Chicago, Illinois. (2)
One woman—a passenger on the Greyhound bus—was killed in the collision, while 38 other people were injured in the crash. Four people, including the driver of the bus, suffered critical injuries. The accident is still under investigation, both by State authorities and by Greyhound itself. (2)
"We are asking witnesses to assist by providing details about this accident. We have also enlisted the assistance of an investigation expert and are deep in the process of collecting evidence vital to our case," said VB attorney and founding partner Vuk Vujasinovic. "We are committed to determining why this bus crashed, and to collecting all compensation due to our client from the allegedly at-fault parties."
This bus accident is the latest in a string of commercial bus accidents on interstates in the Midwest. (3)
VB Attorneys, who also represent the crew of the Maersk Alabama, portrayed in the hit movie Captain Phillips, (4) have a history of representing injured victims against Greyhound. They recently settled a very similar case in which a Greyhound bus struck an 18-wheeler in North Carolina. (5)
To learn more about our lawsuit against greyhound and the rights of bus accident victims, call the Greyhound crash hotline at (877) 724-7800 or visit the VB Attorneys website.
(1) DC-13-12577-L; 193rd DC of Dallas County
(2) ABC Action News. October 9, 2013 abclocal.go.com/wpvi/story?section=news/local&id=9280693
(3) M Live. August 1, 2013. mlive.com/news/kalamazoo/index.ssf/2013/08/greyhound_bus_passenger_in_cri.html
Cincinnati News. September 15, 2013. news.cincinnati.com/article/20130914/NEWS01/309140059/BREAKING-34-injured-bus-crash-NB-75-Liberty-Twp-?odyssey=mod|breaking|text|FRONTPAGE&nclick_check=1,
(4) PR Web via Foster Web Marketing. October 10, 2013. prweb.com/releases/2013/10/prweb11210047.htm,
Case numbers: Alabama 02-CV-2012-900747-90, Circuit Court of Mobile County; Texas 2009-64336, 164th Harris County District Court
(5) VB Attorneys. vbattorneys.com/case_results/greyhound-bus-accident-lawsuit-settled.cfm. Case No. 2008-69957; 190th Judicial District of Harris County, Texas
About VB Attorneys:
Based in Houston, Texas, and serving clients nationwide, the lawyers at VB Attorneys handle high-stakes personal injury cases—many of which draw national attention. Three of the lawyers at the firm are Board Certified in Personal Injury Law.
To read more about the law office, read about some of their recent successes, or to request a free, private consultation, please call 888-473-1258 or visit http://www.vbattorneys.com.
Contact: Vuk Vujasinovic
Phone: 877.724.7800
Email: vuk(at)vbattorneys(dot)com
Website: http://www.vbattorneys.com