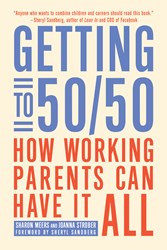 (PRWEB) October 24, 2013
Sharon Meers is the coauthor of Getting to 50/50: How Working Parents Can Have it All, released today. She recently wrote an article for LeanIn.org which reveals "The Secret to an Equal Marriage." Sharon's suggestion is constant communication.
"When men are open-minded and women feel empowered to say what they want, that's when fairness has a chance. In my experience, most guys want to share the way they see the world—and sometimes just voicing how they feel helps men imagine new possibilities."
Sharon Meers writes that women should not be afraid to keep jobs that are important to them, even after they get married and have children. "Whether your job pays a lot or a little, what's key is saying out loud that it matters to you. Having meaningful work—that builds your skills, gets you excited and can feed a family if you want one—is equally important for women and men."
Sharon Meers and Joanna Strober will appearing at book launch events around the San Francisco Bay Area for getting to 50/50 in the next week. Join them at one of these events or listen to them on the radio:
October 25, 7p.m.: Books, Inc. Alameda
October 27, 4 p.m.: Book Passage Marin, Corte Madera
October 29, 10 a.m.: Ron Ownes Program on KGO AM 810
October 30, 7:30 p.m.: Kepler's Bookstore, Menlo Park
Getting to 50/50
How Working Parents Can Have It All
By Sharon Meers and Joanna Strober
Foreword by Sheryl Sandberg
Sharon Meers and Joanna Strober are two working moms who believe that everyone wins when men are full parents and women have full careers. They know that families thrive not in spite of working mothers, but because of them. Here are real-world solutions for parents who want to get ahead in their careers and still get to their children's soccer games; strategies for working mothers facing gender bias in the workplace; advice to fathers new to the home front; and tips for finding 50/50 solutions to deal with issues of money, time and much more.