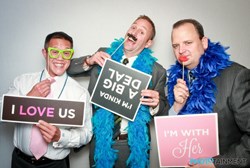 Seattle, WA (PRWEB) October 25, 2013
Viridian Investments is proud to support Ronald McDonald House Charities® of Western Washington & Alaska through attendance at the 30th anniversary gala on October 19, 2013 at the Seattle Sheraton Hotel.
Viridian founders Marcus Dusenbury and Adriel Tam sponsored a table at the event which raises proceeds to fund operations at the Seattle-based RMHC. The Seattle Ronald McDonald House provides housing for families of children undergoing treatment at Children's Hospital. Viridian is a long-time supporter of the organization; Adriel Tam, a member of the Investment Committee, has supported the charity since 2007.
Seattle RMHC's mission is to support seriously ill children and their families. "At the Seattle Ronald McDonald House, we provide a "home-away-from-home" to help families through a difficult time. We also provide a van service for families staying in Anchorage while their children receive medical care."

Founded in 1983, the Seattle Ronald McDonald House is one of the largest Houses in the world and includes 10 dedicated pediatric bone marrow transplant apartments.
About half of the families who stay at the House have a child battling cancer.
About half of the children who stay here are under age 5; about a fourth are between 6-12, and a fourth are teens.
Currently, there are more than 300 Ronald McDonald Houses throughout the United States and world. All operate under licensing guidelines from the global Ronald McDonald House Charities. However, each Ronald McDonald House is independently operated.
The Seattle House is operated and maintained through individual and corporate donations by Ronald McDonald House Charities® of Western Washington & Alaska. RMHC qualifies as a 501(c)3 and therefore contributions to RMHC may be tax-deductible to the fullest extent allowable by law. Please consult with your tax advisor. For press inquiries regarding the Seattle House, please contact their Public Relations department at 206.838.0624.