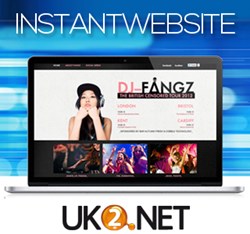 We bill ourselves as being everything you need to succeed online and we mean to back up that claim.
London, UK (PRWEB UK) 24 October 2013
Leading domain registration company UK2.NET has introduced InstantWebsite which provides customers a free website with all domain name registrations. Powered by its industry-leading website builder, InstantWebsite offers UK2's domain customers with a single page version of Website Builder and gives them an immediate online presence.
With access to 10 professionally designed templates, customers can edit and customize their website until it's perfectly fitted to their basic need. Not only do they benefit from online visibility and interest faster than ever, InstantWebsite comes at no extra cost.
"We bill ourselves as being everything you need to succeed online and we mean to back up that claim," said Sara Cunha-Rego, director of Web hosting for UK2. "When customers come to us they'll get a credible domain name with an attached email account, a secure hosting package and their own custom website all at once."
Because InstantWebsite uses the same simple interface of UK2's existing website builder, it is just as easy to begin building whether you're an experienced designer or it's your first time. After activating the service, users can modify their chosen template to add contact details, their own images or a maps plugin to help customers find them. If they ever want to expand their website, upgrading to the full Website Builder product is easily done from within the control panel.
"These offerings show what UK2 is all about," added Cunha-Rego. "We weren't happy with simply bringing Website Builder to market, that was just the beginning. We've expanded the product with our Build-it-for-you service, and now InstantWebsite. We're showing that UK2 is a company with its eye on everything that benefits our customers from beginning to end."
UK2 has sold over 4 million domains and is currently celebrating 15 years in the market. With InstantWebsite ready and launched, they are set to bring even more value to their customers who will see a return on their domain faster then ever.
ABOUT UK2.NET
UK2.NET has been a major player in the Web hosting industry since 1998 and is part of UK2 Group. They provide a variety of services including domain name registration, email hosting, Web hosting, cloud hosting, reseller, ecommerce solutions, VPS and dedicated servers to individuals and businesses. UK2.NET are also one of the biggest and fastest growing Web hosting companies in the UK.
UK2.NET is the founding member of the UK2 Group, a group of interconnected global and UK Web hosting companies that operate independently whilst sharing knowledge, expertise and resources. Having this wide range of companies under one group allows them to achieve a greater global reach while providing world-class hosting services to their customers. For more information about UK2 visit http://uk2.net.