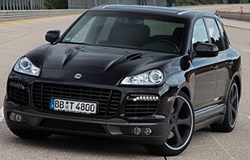 While there is a lot to like in existing Porsche Cayenne models, little improvements may help drivers improve the looks of their vehicles.
San Diego, CA (PRWEB) October 25, 2013
For the 2014 model, Porsche decided that its Cayenne SUV offering was already top-notch, and auto critics rejoiced upon hearing the news that Porsche didn't plan on changing the basic style for at least three years. That being said, owners of older Porsche Cayenne models may be interested in upgrading their Cayenne rims for better appearance and handling of their aging vehicles. To fill that gap, UsaRim, a leading seller of aftermarket Porsche products, just introduced their 2013 line of wheels and tires for all Porsche Cayenne models.
The Porsche Cayenne earned top honors in Motor Trend rankings in 2011, and it is still considered one of the top driving experiences among luxury crossovers. An Edmunds.com review of the 2013 model and a Cars.com review of the 2012 model both noted the suspension tuning, height adjustments and available torque vectoring. Most owners, according to various industry surveys, have been happy with their experience. While there is a lot to like in existing Porsche Cayenne models, little improvements may help drivers improve the looks of their vehicles like replica Cayenne wheels.
As a manufacturer option, larger-diameter rims can cost thousands of dollars for new Porsche Cayenne buyers. However, replica options can be a fraction of that. In addition, many owners like to update the look of their vehicle every so often without breaking the proverbial bank. UsaRim offers a number of wheel choices for Cayenne owners whether they want to find a new design or go up a size for better handling.
In the latter case, having a larger rim can improve handling because metal is more stable on the road than an air-filled tire because an alloy does not bend under cornering like rubber can. That means that the small size section of the tire that is actually in contact with the road does not change shape, providing a better driving experience and more confidence for drivers. Of course, many buyers also consider Porsche Cayenne wheels because they want to go from a silver finish to a glossy black or from a basic five-spoke design to a unique mesh style.
Either way, UsaRim is currently offering free shipping on every wheel and tire in stock, with same-day shipping for orders placed before 2PM PST. Buyers can take advantage of a lifetime warranty and no-hassle returns to make buying the right set of wheels as easy as possible, and cost effective as well.
To learn more about the Cayenne wheel offerings at UsaRim, visit the Porsche Cayenne wheels page.
About UsaRim:
UsaRim has built a reputation for providing the highest quality aftermarket wheels and tires on the market. The company offers aftermarket wheels for Audi, BMW, Honda, Mercedes Benz, GMC, Cadillac, Volvo, Volkswagen, Toyota, Porsche and more.