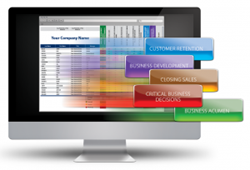 Chally has always been dedicated to making performance measurement work toward strategic objectives
Dayton, Ohio (PRWEB) October 24, 2013
Chally Group Worldwide has announced the release of its new Targeted Business Application, which harnesses the company's unparalleled database and analytical capabilities to enable organizations to focus their talent management efforts on skills and competencies related to specific business objectives.
Organizations across all industries and stages of development have embraced science-based assessment to help manage their human capital, but their goals are often limited to needs such as filling particular types of jobs or developing executive leadership. Progressive companies seek talent management strategies that more directly support specific, strategic business goals, but lack the tools to do so. Chally's Targeted Business Application bridges this gap with a solution that uses "Big Data" talent analytics to pinpoint the developmental steps needed to achieve business objectives.
Chally's approach begins with a chosen strategic goal, such as improving customer retention or business development. Working backwards from this goal, the solution identifies the competencies needed to support it, and deploys the measurement tools to gauge the appropriate skills available across the team or across the organization. Chally's unparalleled predictive analytics then identify the strengths and weaknesses of the people involved, both overall and individually, and point out the specific developmental opportunities that will best support the business goal.
"Any well-run business keeps its strategic goals in view, and our industry already offers an enormous range of assessment and development tools. What has been missing is a talent management solution that matches development priorities to drive specific business needs," says Bob Schwab, senior vice president, sales and marketing. "Chally has always been dedicated to making performance measurement work toward strategic objectives. This solution is a very natural extension of what we do, and we think it meets a real need in the marketplace."
According to James Killian, Ph.D., vice president, research and advisory services, the Targeted Business Application improves efficiency in two key ways. "It shows leaders where the skills needed to meet business goals already exist within the company, and it identifies in detail where training or redeployment are needed. This allows development efforts to focus solely on the people and skills where improvement will have the greatest strategic impact."
The solution builds on several of Chally's strengths, such as industry-leading research, actuarial and predictive expertise, and talent management advisory services. In particular, The Targeted Business Application leverages the company's Big Data capabilities. These include a unique database spanning 40 years' worth of leadership characteristics and competencies, as well as the analytical tools and experience to turn data into actionable talent management insights.
"We're very excited about being able to deliver this product at this time," says Ken Carroll, CEO. "In an environment where Big Data solutions are making headlines, we believe the talent management field remains underserved. The Targeted Business application makes it easier for leaders to 'connect the dots' between the talent they have and the goals they aim to achieve."
About Chally Group Worldwide
A global sales and leadership potential, performance and talent measurement firm, Chally Group Worldwide provides its industry-leading research, predictive analytics and advisory services to clients across 60 countries. Chally assures that our customers have the information they need to grow sales and minimize risks associated with talent management decisions relating to selection, alignment, development and succession planning. Visit http://www.chally.com or follow @ChallyGroup on Twitter.
For more information about the Targeted Business Application, contact:
Deb Tackett
Phone: 937) 259-1200
debtackett(at)chally(dot)com