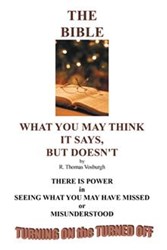 Chicago (PRWEB) October 25, 2013
According to The Wall Street Journal, the Bible is the bestselling book of all time and the most quoted book in the English language, but people still struggle to understand its messages.
"The Bible: What You May Think It Says, But Doesn't" by R. Thomas Vosburgh presents a fresh look at the Bible by exposing misleading clichés, doctrines and practices regarding Christmas, Hell, Creationism, the Trinity, prayer and the church today.
"My book is about today and the challenges of really listening to the Word of God," Vosburgh said. "And providing a witness that doesn't cause more harm than good, so people are turned on rather than turned off by weak doctrine or misguided intentions."
Vosburgh's faith is so steady because of the many trials he has faced throughout his life, including suffering a coma and paralysis. He was able to heal and overcome these obstacles through the power of prayer, which is what inspired him to write this book.
"I was willing to come at the great themes of the Bible with an open mind and not willing to be constrained by tradition or common cultural views as to what people think the Bible should say or want it to say," Vosburgh said. "I send people back to the Bible to take a fresh look."
"The Bible: What You May Think It Says, But Doesn't"
By R. Thomas Vosburgh
ISBN: 978-1-45821-010-4
Softcover retail price: $17.99
E-book price: $3.99
About the author
R. Thomas Vosburgh has faced severe health issues including being paralyzed from the neck down, so he knows how faith and prayer can see one through the most tragic of circumstances. He is an ordained United Methodist pastor with a doctoral degree from San Francisco Theological Seminary.
Available at http://www.amazon.com, http://www.bn.com, and http://www.abbottpress.com.