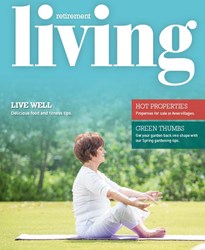 (PRWEB) October 26, 2013
Retirees can find the ideal place to retire as Aveo showcase select villages across four states and also feature testimonials and feedback from their village residents and employees who bring the communities to life.
Alison Quinn, Executive General Manager said "At Aveo we pride ourselves on the presentation of our villages and our ability to offer residents an extensive choice of living options. This magazine helps retirees learn more about living well at Aveo and our commitment to providing care services for all residents within their home."
One of the many articles within the magazine is "Rekindling community life", which outlines the importance of having social connections and companionship, as they form a key ingredient for a long and healthy life.
For retirees actively seeking a retirement home at this time, the new magazine presents a great selection of properties currently for sale backed by the "Aveo Purchase Promise".
Aveo "Retirement Living" magazine is published quarterly. For more information on properties or articles featured in this publication call us on 13 28 36 or visit http://www.aveo.com.au.
Aveo Live Well retirement villages balance convenience and independence with an enviable lifestyle. Through care, skill and dedication we have been refining what it means to "live well" for over 20 years and are proud to be Australia's leading provider of retirement lifestyles. Since 1991, our portfolio has grown to 76 retirement villages across Australia offering a wide choice of lifestyles.