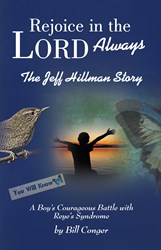 Nashville, Tenn. (PRWEB) October 25, 2013
What if your child's ordinary flu symptoms turned out to be something much more dangerous?
"Rejoice in the Lord Always: The Jeffrey Hillman Story" by former journalist Bill Conger follows the story of one boy's journey living with Reye's syndrome, which is a potentially fatal illness that affects the brain and liver.
Reye's syndrome is characterized by a series of stages, the first of which appear similar to flu symptoms. The Hillmans never expected that when their son began complaining of an upset stomach that a silent illness was at work. When his symptoms worsened, he was taken to the hospital where he later fell into a coma.
Miraculously, Jeffrey Hillman was able to survive despite the odds and overcame many of the obstacles caused by the physical aftermath of Reye's syndrome. The book chronicles Hillman's trip to recovery through both enduring faith and consistent physical therapy.
"Jeff is someone who went through an earthly hell in various ways, and certainly, he has had his moments of despair, anger and questioning of his faith," said Conger. "The difference in his story is that Jeff persisted and remained faithful in the face of uncertainty."
"Rejoice in the Lord Always: The Jeffrey Hillman Story"
By Bill Conger
ISBN: 978-1-49080-258-9
Softcover retail price: $13.99
E-book price: $3.99
About the author
Bill Conger is a freelance writer who has penned articles for publications and websites including American Songwriter, CMT.com, VH-1.com, GACTV.com, Bluegrass Unlimited, Homecoming, Fostering Families, and ParentLife. He was a reporter for WSM AM and for local stations in the Middle Tennessee area.
Available at http://www.amazon.com, http://www.bn.com, and http://www.westbowpress.com.