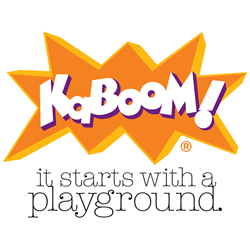 New Playground will provide 1,100 kids a safe, new place to play - all in one day!
(PRWEB) October 24, 2013
WHAT: More than 100 volunteers from Livie & Luca, Pogo Park and City of Richmond, organizers from KaBOOM! and residents of the Richmond community will join forces on Saturday, October 26, to build a new playground at Belding Garcia Park. The new playground's design is based on drawings created by children who participated in a Design Day event in July.
WHY: Today's kids spend less time playing outside than any previous generation in part because only 1-in-5 children live within walking distance of a park or playground. This play deficit is having profound consequences for kids physically, socially and cognitively. Children need a place to play every day in order to be active and healthy, something KaBOOM! has been committed to since 1996.
The new playground will provide more than 1,100 children in Richmond with a safe place to play. Currently, the children play at Belding-Garcia Park although the play equipment is antiquated. The neighborhood children that attend Caesar Chavez Elementary School, adjacent to the park, can use the school playground only during school hours. The school playground is more updated but it is locked during non-school hours which means that neighborhood children cannot utilize the play equipment after hours and on weekends.
The playground is the first built by KaBOOM! and Livie & Luca and is one of more than 150 playground builds KaBOOM! will lead across the country in 2013 in an effort to fulfill its vision of a great place to play within walking distance of every child in America.
WHEN:Saturday, October 26
8:30 AM to 9:00 AM Kick off ceremony and volunteer deployment
11:00 AM to 1:00 PM Best viewing of playground construction
1:00 PM to 2:30 PM Final construction phase and adjustments
2:30 PM to 3:00 PM Ribbon-cutting ceremony to dedicate new play area
(Note: all times approximate)
WHERE:
Belding Garcia Park
515 15th Street (between Coalinga Avenue & Visalia Avenue)
Richmond, CA 94804
WHO: Over 300 community volunteers
VISUALS:
Before and after shots of the site
Volunteers assembling brightly colored playground equipment
Volunteers moving 43,740 square feet of safety surfacing by hand
Ribbon-cutting ceremony to dedicate the playground
Pogo Park
Pogo Park is a grass-roots, community-based nonprofit organization in Richmond that aims to transform broken and under-utilized parks into safe, healthy, and enriched places for children to play outside. Our goal is to intervene into the lives of some of this country's most vulnerable, at-risk children by creating exceptional places for them to play. Play is how children learn. When they negotiate the rules of the playground (who gets on the slide first, how long is fair to spin on the rubber tire, how to resolve disputes) they are, in fact, developing social skills. When they don costumes and pretend they're Cinderella, a scary monster, or a Power Ranger, they are developing creative skills. When they swing on a swing, slide down a slide, or climb up a ladder, they are developing physical skills. When they construct a small fort out of mud, stone, and sticks, they are developing cognitive skills and so forth. Play is the "mother's breast milk" of activity: it provides a child with rich, meaningful, supercharged opportunities to practice the very developmental skills they need to develop to their inherent potential. Accordingly, the renovation of Belding-Garcia Park into an improved play space is critical for the healthy development of local children.
City of Richmond
For the past 4 years, the City of Richmond has worked closely with the Belding Woods neighborhood. This community was targeted to serve as one of two pilot neighborhoods for the implementation of the Health and Wellness Element (HWE) as part of the City's General Plan. Through this work, City staff has fostered a very close relationship with the neighborhood council, parents, students, and faculty at the elementary school adjacent to the park. More importantly, over the past year, the residents within the neighborhood have developed working relationships with one another to reach a common goal: To improve their overall quality of life and the quality of life for generations to come. The neighborhood group has identified eight action areas in which they are working to provide enhancements and improvements. The community's vision and health and wellness goals for the future focused on air quality, economic development, food and nutrition, health services, public safety, quality housing, streets and sidewalks, and parks and recreation. As the residents of this neighborhood are very dedicated to creating improvements and enhancements to their direct environment, they developed action goals to support each of the areas listed above. For Parks and Recreation, the first action goal listed in the groups plan is for the renovation of Belding-Garcia Park. The group believes an inviting open space and a new playground will create unity among neighbors as well as help create a direct positive impact within the neighborhood.
Livie & Luca
"Livie & Luca is a Bay Area children's shoe company committed to social responsibility, sustainability and spreading joy! We donate 10 % of our online sales to charity, in this case to building a magical playground for an under served population in our area. We have long dreamed to be able to carry out a project like this. There were several criteria that were very important to us: that the playground be accessible to and provide sensory input for all children, including those with disabilities, that it promote health and wellness, that it be sustainable in the broadest sense and that its components be as natural as possible. We are thrilled to work with representatives of the City of Richmond, Kaboom! and Pogo Park to realize this dream."
KaBOOM!
KaBOOM! is the national non-profit dedicated to giving kids the childhood they deserve by bringing play to those who need it most. Children today spend less time playing outdoors than any previous generation, a fact that is having disastrous consequences on their health, achievement levels, and overall well-being. Social entrepreneur Darell Hammond founded non-profit KaBOOM! in 1996 in Washington, D.C. with a vision of creating a great place to play within walking distance of every child in America because children need to play actively every day at home, in school and in their communities. Since then, KaBOOM! has mapped over 90,000 places to play, built more than 2,300 playgrounds, and successfully advocated for play policies in hundreds of cities across the country. KaBOOM! also provides communities with online tools to self-organize and take action to support play on both a local and national level. Hammond chronicles the founding of the organization and the importance of the cause of play in his The New York Times Best Seller KaBOOM!: A Movement to Save Play, now out in paperback. The book details how businesses and communities can work together to save play for children across the country. All author proceeds support KaBOOM!. Headquartered in Washington, D.C., KaBOOM! also has an office in San Mateo, Calif. For more information, visit http://www.kaboom.org.