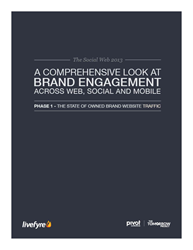 San Francisco, CA (PRWEB) October 24, 2013
Livefyre, provider of the leading real-time conversation and social curation platform, and Pivot Conference, where 400+ Social Business Leaders gather once each year to focus on how to drive transformational initiatives for their companies, today announced the results of a new study that examines how consumers engage with major brands across web, social and mobile. Part One of the study analyzed 500 global mainstream brands across 16 different industries, looking at the growth and loss patterns of unique visitors from 2011 – 2013.
According to Experian, Americans now spend 16 minutes of every hour online on social networking sites. As consumers have flocked to social networks over the last 5 years, marketers started engaging consumers where they spend their time at the expense of their own websites. Some industries have re-evaluated their digital engagement strategies and adopted real-time social technology in order to hold consumers' attention. That strategy appears to be paying off. Among the more surprising findings in this study is that 95% of newspaper publishers saw positive web traffic growth from 2012 – 2013.
"Publishing was the first industry to be threatened by this shift in behavior," said Jordan Kretchmer. Founder and CEO of Livefyre. "The emergence of the internet, blogs and social networks forced publishers to rethink their business models - adapt or die. The success of this new approach hinged not only on attracting readers to their websites but making their sites interesting enough to keep them coming back. This is where tools like real-time comments, live blogging, and content curation come into play. "
Similarly, the Television industry was forced to reinvent themselves in the face of online content streaming, but it appears that the internet has actually helped television more than it has hurt it with the emergence of Social TV. The study found that Television is the most improved industry, having seen losses in 2011, which turned into significant gains in 2012.
Not all industries fared as well as Publishing and Television. In other industries, the study found wild swings from negative traffic growth one year to positive the next and vice versa. This was especially prevalent for brands in the CPG and Restaurant Chain industries.
"We suspect that this flipping reflects the intensity and change found in turbulent markets driven by the emergence of social and mobile," said Mike Edlehart, CEO of Pivot Conference. "The success methods of one year do not necessarily indicate future success in a market where core fundamentals can be utterly transformed in a matter of months, and vice versa. A revolutionary market has a short memory."
The industries that saw significant losses as an overall category include CPG – Food, CPG – Health & Beauty and Hospitality. The clear leaders in this study that showed trends of overall positive growth include the Automotive, Financial Services, Online Retail, Publishing and Travel industries.
"The key takeaway here is that consumer behavior is evolving faster than it ever has before," continued Kretchmer. "In order to sustain growth, brands need to evolve their communication strategies just as quickly and adopt technology that can facilitate this transformation."
Today's announcement is phase one of a three part study from Livefyre and Pivot Conference that looks at the state of brand engagement across Web, Social and Mobile. The full study, including individual brand rankings by category, is available for download at: http://web.livefyre.com/social-web-2013/.
About Livefyre
Livefyre helps companies engage consumers through a combination of real-time conversation, social curation and social advertising. With Livefyre's social CMS, brands can integrate real-time social content into their websites, mobile apps, advertisements and television broadcasts to increase viewer engagement, boost website traffic and drive revenue. As the fifth largest network online, Livefyre is powering real-time social experiences for over 550 leading brands including American Idol, AOL, Bravo, CBS, Conde Nast, Cox Media Group, Dow Jones/WSJ, FOX Sports, Mashable, NASCAR, Showtime, Sony Playstation, Sports Illustrated and The New York Times. Livefyre also acquired social storytelling platform Storify in September 2013.
Founded in 2009 with offices in San Francisco, New York and London, Livefyre was named one of the best places to work in the Bay Area by the San Francisco Business Times. For more information, visit http://www.livefyre.com or follow us Twitter and Instagram at @livefyre or @storify.
About Pivot Conference
The Pivot Conference is a uniquely powerful Social Business conference, held each October in NYC. Pivot is singularly focused on helping a community of 400+ Social Business leaders gain essential confidence in their power to drive transformation for their organizations by inhabiting the culture, conventions, and conversations of Social Consumers and the emerging Social Construct. Visit http://www.pivotcon.com for more information.