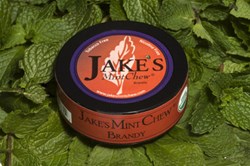 At Jake's Mint Chew, we aim to provide people with the best chewing tobacco alternative available to help make their dipping experience about the intense rush of flavor, not nicotine
Danvers, MA (PRWEB) October 28, 2013
Jake's Mint Chew is proud to announce Brandy as the ninth flavor of its popular, healthy mint chew, which is designed to help people quit chewing tobacco. This decision was made by a core of loyal Jake's Mint Chew customers that were asked to sample a variety of potential new flavors.
In researching new flavor options, Jake's Mint Chew Founder and R&D Director Jake Sweeney replicated the taste of several popular chewing tobacco flavors in addition to Brandy – a flavor that has never been tried before in tobacco or non-tobacco chew. When creating Brandy, Sweeney found the perfect mix of ingredients that combine with the natural flavor of mint to create an unforgettable taste that will have people excited to "chew healthy, chew mint."
"At Jake's Mint Chew, we aim to provide people with the best chewing tobacco alternative available to help make their dipping experience about the intense rush of flavor, not nicotine" explains Sweeney. "Our Brandy chew has the perfect flavor to do just that."
The company will be offering Brandy for a limited time at the Jake's Mint Chew online store or in select retailers across the country. Jake's will be looking to add new flavors and products in the future and are open to suggestions from their fans on Facebook and Twitter.
About Jake's Mint Chew
Jake's Mint Chew is an all-natural, long cut, non-tobacco chew made of mint instead of tobacco, manufactured in Danvers, MA. Jake's Mint Chew packs like real long cut chewing tobacco; not overly gummy like other brands. It's nicotine-free, good for digestion, and leaves users with fresh breath! Jake's Mint Chew has been experiencing explosive growth year over year, nationwide and internationally, with repeat sales skyrocketing as a result of increased quality control, fulfillment time, and customer service. Jake's Mint Chew is available in nine delicious flavors: Straight Mint, Wintergreen, Spearmint, Cinnamon, Licorice, Cherry, Cranberry, Kola, and their newest flavor, Brandy.