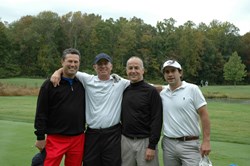 Our golf committee has done a wonderful job of bringing together a sterling group of golfers to support our cause.
Greenwich, CT (PRWEB) October 24, 2013
The threat of rain didn't dampen the enthusiasm as golfers teed-up to play in the second Annual Lyme Research Alliance(LRA) Golf Tournament at the prestigious Stanwich Club in Greenwich on Thursday, October 10.
Sixty-six golfers came out for a fun day of golf, camaraderie and to support LRA's efforts to help fund research and ultimately find a cure for Lyme and other debilitating tick-borne diseases. About $80,000 was raised during the day's activities, which included 18 holes of golf, lunch and dinner buffet, a cocktail reception sponsored by Greenwich Hospital, silent auction and awards ceremony.
"We want to say a HUGE thank-you to everyone who played a part in this year's outing," said Peter Wild, LRA executive director. "Once again our golf committee has done a wonderful job of bringing together a sterling group of golfers to support our cause and play 18 holes on this spectacular course; and we appreciate the continued support of The Pepe Auto Group who donated the hole-in-one car."
The winners of this year's tournament were: 1st Place Low Gross—Lonnie Fine, Scott Russell, Bill Baum and Zach Stern; 1st Place Low Net—Steve Robinson, Garrick Stannard, Mike Stamer, Walt McNultt. 2nd Place Low Net—Scott Hobbs, Gina Zaugrillo, Jack Dowling and Jonathan Moffly.
Men's and women's longest drive contests were won by Dennis Dunne and Lisa Rodger. The men and women's closest-to-the-pin #4 were won by Garrick Stannard and Lisa Rodger, while closest-to-the-pin #16 contests were won by John Bauman and Mary Ann Sullivan.
All golfers received goodie bags that included a polo shirt donated by the Tommy Hilfiger Corporate Foundation, golf umbrella donated by William Baum, Baum-Essex, Tick Tock Naturals Organic Insect Repellent, and a copy of Greenwich Magazine, donated by Moffly Media, the tournament's major media sponsor.
Golfers were offered four hole-in-one prize opportunities, with the 13th hole featuring a 2-year lease on a 2013 Cadillac ATS 3.6 offered by Pepe Cadillac.
A silent auction was available throughout the event for participants to bid on a variety of items including trips, golf packages, music equipment and more.
Committee members for the tournament included Robert Bel Bruno, Jim Edwards, Tony Frascella, Alan Herzog, Malcolm and Dana McAvity, and Hilary Tuohy.
Sponsors included Bang & Olufsen; Baum-Essex; Charles River Apparel; Greenwich Hospital; Kelly Luf, Liberty Travel- Meriden; Pepe Auto Group/Pepe Cadillac; Tommy Hilfiger Corporate Foundation; Tick Tock Naturals, and Hilary Tuohy, Executive Women's Golf Association.
---
Lyme Research Alliance, formerly Time for Lyme, is a Connecticut-based, national non-profit that funds cutting-edge research into Lyme and other tick-borne diseases. For more information go to http://www.LymeResearchAlliance.org.