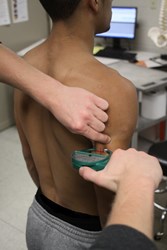 Research comes out every day to support ... that when an athlete loses weight in a safe and healthy manner, (s)he will have a higher level of athletic performance...
Rochester, NY (PRWEB) November 20, 2013
Body weight and body composition (percent fat versus lean muscle) are factors in a number of athletic activities, including wrestling, gymnastics, swimming, and running, as they influence aesthetics and can affect physical performance. However, there are few in which they play such an integral role as in the sport of wrestling, where competition is determined by a pre-established weight classification system.
Prior to the turn of the 21st century, extreme weight loss and unhealthy weight loss practices were common among amateur wrestlers. In 1997, these dangers were sadly realized when three college wrestlers tragically died while engaged in unsafe weight management practices – all within a 35-day period.
The National Athletic Trainers' Association (NATA), National Collegiate Athletic Association (NCAA), National Federation of State High School Associations (NFHS), and others, including the NYS Public High School Association (NYSPHSAA), have worked diligently over the past ten-plus years to improve safety and provide education on hydration, nutrition, and appropriate weight loss practices to decrease the health risks – some of which were proven fatal – in sports where weight and body composition play a more significant role. Over the past decade, the NATA has published a number of position statements on appropriate weight loss practices (2011), proper hydration (2000) and nutrition, dietary supplements (2013), and disordered eating in athletics (2008) to improve health and safety in this area.
Just two years prior to the most recent NATA Position Statement on "Evaluating Dietary Supplements for Performance Nutrition" (JAT, Feb. 2013), the NATA completed and published a Position Statement on "Safe Weight Loss and Maintenance Practices in Sport and Exercise" (JAT, June 2011). The 2011 statement covers a plethora of nutritional concerns and how they relate to one another; as well as outlines the components of the wrestling weight certification process and the rationale behind them.
Another factor that might help to change extreme weight management trends is the negative effect on athletic performance. Athletes typically suffer through extreme dietary restrictions and/or extreme training conditions, like withholding water or exercising in extreme heat, thinking it will ultimately give them an advantage. Research in the area of hydration and performance has shown, however, that besides being potentially dangerous, dehydration also impedes performance. As indicated in both the 2000 and 2011 NATA Position Statements, decreases and impairments on performance are noted with as little as one- to two-percent dehydration in areas such as oxygen uptake, muscle strength and muscle endurance.
"More and more research comes out every day to support the fact that when an athlete loses weight in a safe and healthy manner, (s)he will have a higher level of athletic performance and be better able to reach his/her highest potential," stated Paula Sammarone Turocy, EdD, LAT, ATC, Chair of NATA's 2011 Safe Weight Loss Practices position statement. Turocy, who is an Associate Professor of Athletic Training at Duquesne University continued, "Creatine, amino acid supplements, and other heroic measures will not ultimately give you better performance; eating and exercising correctly and specifically to meet the goals of your sport will give you that outcome. Athletes should talk to their athletic trainer to learn how to make the most out of their diet and exercise programs."
The exact weight certification protocols differ somewhat depending on the level of competition - scholastic versus collegiate – but the overall concepts are the same. A minimum allowed weight is determined prior to the start of the season based on current body weight, body composition as measured typically via skinfold caliper, and essential body fat needs for the athletes' age (college males ≥5%, HS males ≥7%, all females ≥12%). Hydration, measured by specific gravity in a urine sample, is also a primary consideration. This minimum weight must be acquired slowly via a safe plan of weight loss – only 1.5% of body weight lost per week is allowed in many cases (mandatory at collegiate level). In these cases, the athletes cannot compete at the lower weight class until their 'weight loss plan' indicates it is appropriate. The NCAA, NAIA, NJCAA, and various state high school associations, use the Optimal Performance Calculator (OPC) program through the National Wrestling Coaches Association (NWCA) to complete the calculations and develop a healthy and safe weight loss plan. NYSPHSAA uses the OPC for 'lowest allowable weight' calculations, but developed their own policy in 1997-98. The NYSPHSAA Wrestling Minimum Weight Certification Program still requires all NYS wrestlers to be certified - via assessments held at regional sites - but differs on some of the other rules and regulations.
The OPC program also recommends that the weight certification measurements (hydration and body composition) be completed by a medical professional, such as a certified athletic trainer (AT), which is mandatory at the collegiate level. As previously noted, adopted guidelines at the HS level vary by state, including NYS, but ATs – who have an educational background in nutrition and body composition, including the assessment techniques - are the predominant healthcare provider administering these certifications.
There are further rules at each level to deter wrestlers from moving up and down weight classes from match to match. In collegiate wrestling, once athletes have dropped into a lower weight class via the 'safe weight loss plan' it becomes more difficult for them to weigh in and compete at a higher weight class. They must either maintain the lower weight even if competing in a higher class or, if they weigh in at a higher weight, must again follow the 'safe weight loss plan' to return to the lower weight class – and this is only allowed through mid-February, a month prior to the post-season. At the high school level, the incentive to maintain weight versus moving up and down is the "50% Weigh-in Rule" where, in order to compete at a certain weight class in the post-season, athletes must weigh in at that weight class at least half of their matches during the season. Other rules that can help to deter using dehydration or other extreme practices to achieve weight are weighing in the morning of a match or tournament – versus the night before – and the potential of a random draw for starting weight class during matches – versus always starting with the lightest. Both of these take away potential recovery time for athletes who use extreme weight loss methods which may negatively affect performance, so theoretically, poor weight management strategies would be avoided.
Tim Sampsell, head wrestling coach at Eastridge High School (East Irondequoit, NY) feels as though wrestling has come a long way in just the past decade since the addition of the high school weight certification system. "I think the sport has changed for the better. The certification system, along with the 50% weigh-in rule, have really helped make the sport healthier and has helped us as coaches remove the idea that an athlete is going to have cut a lot of weight to compete," he stated. "[The use of unsafe weight loss practices] is less common now than ever. There will always be kids who feel they have to drop a lot of weight to be competitive but they are certainly in the minority with the implementation of the certification system."
Another factor for consideration when evaluating the success of a 'change in culture' to more healthy weight loss management techniques in wrestling is the level of accurate information being provided to [young] athletes. Regular access to a knowledgeable healthcare provider, such as an athletic trainer, and well-educated coaches with regard to proper nutrition and hydration practices, including the physiologic rationale behind them, increases the chances of positive outcomes in the athletes, as they are being provided the best nutritional advice and supervision.
NYSATA, founded in 1976 and incorporated in 1989, stands to advance, encourage and improve the profession of athletic training by developing the common interests of its membership for the purpose of enhancing the quality of healthcare for the physically active in New York State. Comprised of over 1,200 certified and practicing athletic trainers, NYSATA is the state-wide affiliate of the regional Eastern Athletic Trainers' Association (EATA) and District Two of the National Athletic Trainers' Association (NATA).